Japan's No. 2 for Art Travel
There's plenty of reason for art lovers and travelers alike to head to the city of Osaka.
It's Tokyo that has the most museums and the most galleries in Japan, but there's still a lot for you to see if you go to Osaka, Japan's second largest city. There are more than 40 galleries in Osaka. When you're there, pick up a copy of FLAG (Foreign Language Art Guide), an English-language publication that comes out every two months and gives you exhibit information, art reviews and easy-to-follow maps to the galleries.
Three galleries in Osaka are among my favourites. They all exhibited at Art Osaka, are run by knowledgeable gallerists and have some excellent works.
MEM gallery is in the Kitahama district of Osaka and has participated in many international art fairs. The gallery started in 2003, and one of their best known artists is photographer Tomoko Sawada whose work is a unique combination of photography and performance art. You may have seen one of her popular portrait series where she dresses up in costumes, such as school girl uniforms, bar hostesses or maids.
In Sawada's 'Omiai' series for example, she dresses up like Japanese women would have traditionally for photos made for potential future husbands to view before actually meeting. Her work is personal, satirical and funny. It's also a bit unsettling as it brings you face-to-face with some aspects of Japanese society that may evoke very strong emotions.
The second gallery I recommend is YOD Gallery, which is located in Nishi-Temma, Osaka and which opened in early spring 2008. The gallery staff is young and they focus on young artists from the Kansai area. It's a fun place where the gallerists love to surprise you with their interactive art. I liked the works that I saw by Issey Kitagawa which were part of an exhibition called 'Planet Antique.' His small realistic sculptures of phones and everyday objects were made to look like older works retrieved from an excavation on the moon. When you go there, ask to see the works of Masashi Hattori who creates colourful cut-outs and sculptures of people. His works are interactive and playful, but there is also a serious side to these works: They make you think about our own place in this world.
And don't miss the chance to go to my third recommendation, Gallery Yamaguchi Kunst-Bau, which has been around since 1981. This gallery focuses on abstract, minimalist works and shows pieces by Japanese and international artists. This is the place to visit when you want to see works from luminaries such as Dan Flavin, Donald Judd, New York-based Tadaaki Kuwayama and Simon Fitzgerald, a British artist who has settled in Kyoto and teaches at Kyoto City University of Arts. I consider the owner of this gallery, Yamaguchi-san as one of the great gallerist role models in Japan's art world—he has a great eye for choosing artists from all over the world. He's also knowledgeable, patient and has stayed true to his mission of abstract, minimalist art.
Bonus Travel Tip: After you've had your fill of art, head straight to Mon Chou Chou in the Dojima area of Osaka for a visit to a 'gallery of sweets' where everything on display is available for you to savour. You'll be welcomed by an elegantly dressed woman, who will steer you to a wide variety of pastries, cake rolls, cookies and of course chou crèmes.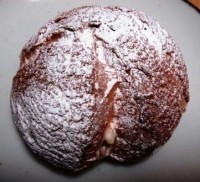 If it's your first time, I recommend starting with the chou crèmes. You might know this sweet confection as a cream puff, but I don't think this name is elegant enough for what you get at Mon Chou Chou. The pastry is light and crispy and it's stuffed with two kinds of creams. One warning: be prepared to battle the traffic inside and outside. This is another must-visit place in Osaka for locals and tourists who like to eat their art!