How Ultra-Rich Chinese Men Find Their Wives
"Luxury Matchmaker Parties" offer women the chance to meet and marry a multi-millionaire.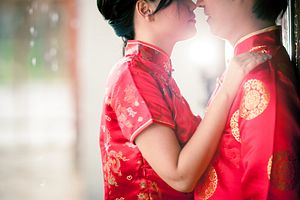 Much of the world is familiar with the unique struggles Chinese face when it comes to marriage. Increasingly strict financial security requirements coupled with the growing pains of a nation in the midst of swift change leave many unable to find proper marriage partners.
Add in the traditional, family-enforced marriage age limits, and the increasing number of shengnan (leftover men) and shengnü (leftover women) make contextual sense.
One particularly perplexing sector of society that has a hard time finding suitable marriage partners is young, extremely wealthy men.
Cheng Yongsheng has made a business out of finding dream women for Chinese millionaires with his Luxury Matchmaker Parties, found in most large cities, including Beijing, Shanghai, Chengdu, Guangzhou, Chongqing, Hangzhou and spreading elsewhere as economic conditions create a viable market. All participants must have capital worth at least 100 million RMB ($16.5 million) to attend.
The need for such an industry arises from the busy wealthy men themselves, who claim that while beautiful women are no rarity in their lives, women actually serious about and suitable for marriage are hard to find when one has a financial empire to build.
Less than one year after their establishment in 2012, these parties have become well known among the Chinese populace. Women volunteer to attend the gatherings, providing intimate information about themselves and their backgrounds. Volunteers are asked to provide their height, weight, measurements, family background, hobbies, and skills. They are then interviewed and ranked according to their "grade." Afterwards, they are asked to demonstrate certain household skills, such as ironing and chopping vegetables, as well as an individual skill or talent.
The actual requirements vary from city to city and event to event, following the trends and tastes of the participants. After one woman in Chengdu presented a medical certificate of virginity, such verification has become an increasingly common expectation at matchmaking events.
Volunteers come from all walks of life, which for some is a demonstration of China's movement in the direction of social equality. Parents also come representing their daughters, some of whom are still in high school, as a way to secure for them a proper future and raise the social rank of the family.
The reaction from the public has been mostly one of disapproval. Many young people express suspicion at men who blatantly use money to attract women. Others say that it is disrespectful to women to have them vie for marriage partners in such a fashion, reducing them to a checklist of requirements, rather than treating them as equals.
Others, meanwhile, take what they perceive as a more pragmatic approach to the matter. Marriages arranged by family members, friends and other third parties are still the norm in China. The requirements by which marriages are made are still largely a matter of finances and social status, with shared hobbies and interests a distant way down the list.
As long as material wealth remains a publicly acknowledged priority for finding marriage partners in China, Cheng Yongsheng and others like him will continue to do good business.