China's New Silk Road Vision: Lessons for India
Chinese diplomacy towards Central Asia has been effective. India should take note.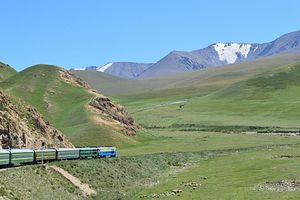 There have been a number of events to revive the storied Silk Road over the past two decades. Regional bodies as well as individual countries have touted plans that involved the ancient trade route, which linked Europe with Central Asia and China over a distance of around 7,000 kilometers.
The talk began in the early 1990s, with a European call for a New Silk Road that would connect Europe with Central Asia via the International Transport Corridor Europe-Caucasus-Asia (TRACECA). The U.S. got in on the act in the late 1990s, first with the aim of bolstering its influence in Central Asia, evident in the Silk Road Strategy Act of 1999, which died in the Senate, and then with the intention of stabilizing Afghanistan, with the Silk Road Strategy Act of 2006, which also failed to pass. Under then Secretary of State Hillary Clinton, efforts were made to get India involved, for instance with the Turkmenistan Afghanistan, Pakistan, India (TAPI) pipeline project. During visits to Central Asian and India in 2011, Clinton spoke in favor of the Silk Road, while making India one of the pivots of the project. A ministerial-level meeting was held in September 2011 in New York to give the project a nudge.
Meanwhile, China has its own New Silk Road vision, an ambitious plan that seeks to connect China with Europe via Kazakhstan with a transcontinental railway connection. While the origins of this plan go back more than a decade, China has recently unveiled details of the latest version of its land and maritime versions. The land version begins at Xian in China and ends at Venice, traversing Central Asia, Iran the Middle East, Eastern Europe and Germany and the Netherlands. The maritime Silk Road begins at Quanzhou in Fujian, and also ends at Venice, where it converges with the land route.
The seriousness of China's leadership about these plans is clear, given visits first to Central Asia last September, and then to Europe in March this year. Trade between China and Central Asia already exceeds $45 billion. During his visit to Central Asia, Chinese President Xi Jinping announced a Chinese stake in Kashagan, a large oil discovery in Kazakhstan, other agreements worth $30 billion,  as well as massive oil, gas and uranium deals in Uzbekistan to the tune of $15 billion. While visiting the port of Duisburg in Germany, Xi took the opportunity to call for a Silk Road connecting Europe and Asia, to benefit the markets of both regions. In fact, Duisburg is the terminus of the Chongqing-Xinjiang-Europe International Railway, which already provides an overland China-Europe link.
China's Silk Road plans are likely to encounter obstacles. The recent troubles in Xinjiang pose a significant threat, especially to connectivity between China and Pakistan via the ambitious China-Pakistan economic corridor.
Nonetheless, the U.S. is being left behind. There are a number of reasons for this, such as China's geographic advantage, its economic clout, and its ability to move quickly on large projects. The U.S. also has strained relations with countries like Turkey and Iran, which would be key players in a New Silk Road. China is on good terms with all players, and is helped by its leadership of the Shanghai Cooperation Organization.
Moreover, the administration of U.S. President Barack Obama – while originally engaged in the concept – now finds itself distracted by other foreign policy issues, such as Syria and Russia. Meanwhile, under Xi, China has remained engaged with active diplomacy and a concept for the New Silk Road that goes beyond Washington's geopolitical emphasis.
For India, there are lessons from this. New Delhi also benefits from at least reasonable ties with most stakeholders in the New Silk Road, including Iran, where India has invested heavily in the Chabahar Port. But India must also make serious efforts to strengthen its links with Southeast Asia, and for this it must develop stronger ties with Bangladesh. New Delhi will also need to work towards a manageable relationship with Pakistan, which would not only facilitate pipeline projects like TAPI, but also enable access to Afghanistan and Central Asia.
India also needs to change its approach towards border regions, and not allow security to cloud its overarching vision. One of the important cornerstones of China's Silk Road vision has been its emphasis on utilizing border regions, while also making use of their strategic location.
All of this requires from the new government under Narendra Modi policies of pragmatism, especially towards Bangladesh and Pakistan.
Tridivesh Singh Maini is Associated with The Jindal School of International Affairs, Sonepat.