Japan-North Korea Negotiations to Resume
Despite intense rhetoric, there is space for tactical concessions and further detente.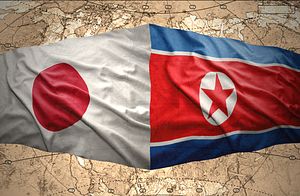 The prospect of government talks between Japan and North Korea was raised again on Monday as Japanese Foreign Minister Fumio Kishida said that government-level talks would be held in Sweden from May 26 to 28, according to the Japan Times. The abduction of Japanese citizens in the 1970s and 1980s, as well as North Korea's nuclear program, are expected to be on the agenda. The two countries last agreed to hold high-level talks on these issues in March, more than a year since they had last met for consultations.
Since their meeting in March, neither country has been overly conciliatory. In fact, Japan has at least twice singled out North Korea's nuclear and ballistic missile programs as contributing factors in its decisions to sign a defense agreement with Israel and order its Self-Defense Forces to shoot down any North Korean ballistic missiles that might be launched in a test. Meanwhile North Korea has been warning since March that it would carry out a new type of nuclear test, with U.S. Pentagon officials stating there are "imminent signs" of a nuclear test at North Korea's Punggye-ri proving grounds.
However, while each country must take the other's military advances and posturing seriously, the actions taken by Japan and North Korea over the last two months should not fundamentally alter the negotiations. Each country has substantial bargaining chips that it can use: Japan can leverage its huge investment potential while North Korea has the whereabouts of Japan's abductees and its nuclear program. Nonetheless, the chances that this next round of talks will lead to a substantial understanding or breakthrough in relations are limited.
Meanwhile, the Nikkei Asian Review has suggested that it is rare for the two countries to hold talks in Europe, despite North Korea's diplomatic ties with Sweden, noting that they have formerly met only in Asia. However, the location of these talks is likely to have little bearing on their success.
More interesting is the timing of the meeting. Japanese Prime Minster Shinzo Abe's ruling LDP is meeting with its coalition partner New Komeito this week in an attempt to iron out their differences on collective self-defense before the current Diet session ends on June 22. With Japanese political attention focused on such a polarizing regional issue, it would seem odd to schedule high-level talks with one of Japan's most intractable antagonists.
The timing of the two issues may belie just how far apart Japan and North Korea are on regional security matters. While Abe's government routinely cites the threat of North Korean ballistic missiles and its nuclear program as issues requiring the right to collective self-defense, or the need to acquire better surveillance technology, Japan now perceives China to be a much greater security threat, as it asserts territorial claims in the East China Sea. Likewise, North Korea has shown itself to be far more concerned with the U.S.-South Korean alliance, as evidenced by its strong reaction each time these allies conduct military drills. While Japan and North Korea may routinely use each other as a rhetorical device to justify their heightened security posture, neither country regards the other as their preeminent regional threat.
Their tacit acceptance of this situation has allowed for the recent opening in bilateral talks over previously intractable issues. However, neither country is willing to expend much diplomatic capital on issues that are either not strategic, or unlikely to be overcome bilaterally. While Abe has made the abductions a political issue domestically, its resolution will not do much to change the regional security calculus. The issue of further North Korean ballistic missile and nuclear tests is also unlikely to be resolved through simple bilateral talks, although Japan may be able to nudge North Korea closer to the negotiating table. This issue still requires the participation of regional security brokers like the U.S., China, and Russia, if not held specifically within the confines of Six Party Talks.
There is the possibility of Japan easing sanctions against North Korea, and that, weighed against the possibility of North Korea giving definitive proof as to the whereabouts of the remaining abductees, may prove attractive enough for both sides to advance negotiations. The possibilities surrounding the prospect of Japanese investment in North Korea are not lost on either party. Japanese investors could be attracted by the North Korea's massively underutilized labor pool, and North Korea could benefit from the subsequent liquidity in its economy.  However, such possibilities are distant prospects, and observers should not expect to see much progress on issues of strategic importance.