Thailand's Economy No Longer Protest-Proof
As unrest in Bangkok mounts this week, investors and credit agencies are increasingly wary of Thailand's prospects.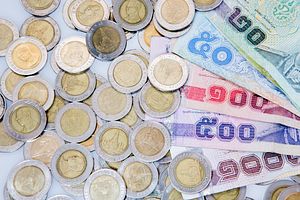 Two separate incidents on Thursday have exacerbated the political quagmire engulfing Thailand. Early in the morning, protesters attacked anti-government groups with guns and a grenade at the Democracy Monument near the People's Democratic Reform Committee at Kokwua Intersection in Bangkok. The attacks left three dead and 22 wounded.
Additionally, acting Prime Minister Miwattumrong Boonsongpaisan was forced to flee an airport compound while holding meetings with election officials because anti-government protesters had stormed the premises.
The military is seeking to reassert its control over the capital and quell protest violence before it completely derails Thailand's tenuous political predicament. With former caretaker Prime Minister Yingluck Shinawatra having been removed by the Constitutional Court in a controversial ruling over an abuse of power, her ruling Pheu Thai Party is desperate to ensure national elections still take place on July 20th.
Following Thursday's attacks, military spokesman Colonel Winthai Suvari gave the army's most explicit warning since political protests erupted last year. According to the Bangkok Post, he said that "attackers [must] immediately stop using violence against people, otherwise the army could be forced to end the violence 'in full force' to maintain law and order."
The Thai Senate – half of which is appointed and half elected – said in a Thursday meeting that it had agreed with top government and military officials that the constitution allowed for the Senate to appoint an interim government given the current impasse. The Senate is expected to suggest a solution on this topic later today, and Boonsongpaisan has agreed to meet with the Senate tomorrow to discuss the crisis.
However, the pro-government, red-shirt United Front for Democracy against Dictatorship (UDD) plans to mobilize this weekend to block the Senate from inserting an interim prime minister, and says the current situation in near a "breaking point." The UDD leader Jatuporn Prompan has said the Senate's efforts violate the constitution, and that "the next three days will be crucial."
Thailand's latest long-running political dispute is starting to show signs of worsening its economy and investment prospects. A Bloomberg News article today cites a survey of its analysts, predicting that Thailand's economy shrank 2.2 percent in the first quarter of 2014, while economists at DBS Group Holdings and Mizuho Bank Ltd. say Thailand might endure two consecutive quarters of contraction, a technical recession.
Since the Thai government was brought to a standstill last December, government spending on crucial infrastructure projects and general spending on state-sponsored programs has come to a near halt. Government coffers have already taken a substantial hit from former Shinawatra's controversial rice subsidy, which bought rice from local farmers at prices 50 percent higher than the world market, and reportedly cost the country $4.4 billion.
Foreign investors are also becoming increasingly nervous about putting more money into a country whose political stalemate shows no signs of resolving itself. Japanese Honda Motor Co. said it may delay building another factory in Thailand worth $530 million, which had been slated to begin production in 2015, by six months to a year. Vehicle sales in general have dropped substantially in Thailand, with first quarter figures down 46 percent from the previous year due to the weakened economy and the withdrawal of a costly government subsidy for first-time buyers.
Thailand's credit rating is also under fire. On May 8 Reuters reported that Fitch Ratings said a continued political stalemate in Thai politics through the latter half of 2014 could prompt a review of its credit rating. This in turn would have a large impact on medium-term capital investment.
Thailand's reputation as a stable and low-cost partner for large foreign investors is beginning to crumble. While sometimes still referred to as the "Detroit of Southeast Asia," major automakers will only tolerate so much uncertainty. The threat of violence in the capital and no clear path to resolving Thailand's political problems are major concerns for investors. The Thai government's prolonged inability to invest in infrastructure may make it even more difficult to attract investors once the political dust settles.