ASEAN's House of Horrors
A submission to the UN Human Rights Council calls out ASEAN countries for torture and extrajudicial killings.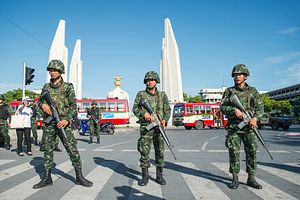 A submission by the Hong Kong-based Asia Legal Resource Center (ALRC) to the Human Rights Council in Geneva went largely ignored by the mainstream media over the last week, making just a few paragraphs in newspapers with sharp-eyed reporters.
The ALRC has turned up 10 countries where torture and extrajudicial killings are common. The great shame is that five of those countries – Burma, Cambodia, Indonesia, Thailand and the Philippines – are among them and are all part of the 10-nation Association of Southeast Asian Nations (ASEAN).
The remaining five named in the submission – Bangladesh, China, India, Nepal and Pakistan – are nearby. It said torture was often related to deaths in custody or extrajudicial executions which were "common to these states."
"Despite having some of the most stable and rapidly developing countries in the world, Asia is notorious for extrajudicial executions," the submission said.
"Both state and non-state actors commit these crimes. As in all human rights abuses committed by state agencies, when it comes to extrajudicial executions, Asian states lack prompt and independent investigation and adjudication modalities."
The submission will go before the 26th session of the Human Rights Council later this month and was hardly a ringing endorsement of "the ASEAN Way" amid advanced plans to form a single ASEAN economic community by the end of 2015.
Among the remaining five ASEAN states, Laos and Vietnam have been regularly criticized for their human rights records – including the disappearance and jailing of dissidents – while religious violence in Malaysia and the introduction of Sharia Law in Brunei remain serious concerns.
The overthrow of a civilian government in a Thai military coup was expected to add some impetus to the Human Rights Council session. In Bangkok the military junta has just widened a purge of high-ranking public servants and provincial governors.
"In the Philippines non-state actors like the Abu Sayyaf group targets political as well as human rights defenders. Such executions do not have the possibility of proper documentation; documenting such cases, or even speaking about them, places civil society members at high risk."
While the appearance of so many ASEAN countries is a major blight for the region, the ALRC reserved its most strident criticisms for Bangladesh, Pakistan, and ASEAN powerhouse Indonesia. It cited fundamentalist religious organizations who "also engaged in an alarming number of extrajudicial executions" that operate in those three countries.
"In Pakistan and Indonesia, some areas are totally controlled by non-state actors that have formed parallel governments. Here justice is that which is dictated by the power of the non-state ruler."
The submission says extrajudicial execution in Asia can be only addressed if Asian states find the resolve to establish regimes based on the rule of law and replace regimes based on the rule by fear that it adds exists today.
"This will require the Asian states to have the moral capacity to take a political decision that, irrespective of all denominators such as religion, region, race, and even political affinities, each life within their jurisdictions will be protected and preserved at all costs.
"This calls for a paradigm shift in the existing debate on Asia into one that focuses on the failure and incapacity of national institutions expected to maintain the rule of law," it said.
Luke Hunt can be followed on Twitter @lukeanthonyhunt