Japan, France to Enhance Defense Cooperation
Plus, Benigno Aquino dispels coup rumors, Afghanistan and the Marshall Plan, and Central Asia's fate. Defense links.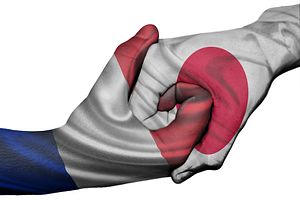 A few Asia-Pacific defense and security links to ring in the latter half of the week:
Japan's appetite for defense cooperation seems to be insatiable. Following an agreement to jointly develop missile technology with the U.K. a few weeks ago, Japan signed an agreement with France on Tuesday to "enhance defense cooperation, including the joint development of military equipment." These agreements come as Japan's government under nationalist Prime Minister Shinzo Abe took steps to allow for the country's armed forces to engage in collective self-defense — something that was previously banned under the country's post-war pacifist constitution. According to Japanese defense minister Itsunori Onodera, Japan and France may cooperate in the areas of military robotics and unmanned and remotely piloted systems.
Times could be better for Philippine President Benigno Aquino. As he tries to gather support for his populist programs against the backdrop of falling popularity, he now has to contend with rumors that the Philippine military is planning a coup against him and his government. According to Defense News, Aquino enthusiastically denied rumors that any coup plot existed within the military against his government. The rumor began due to an ally of the Aquino government in the Philippine Senate alleging that the country's military was growing restive under Aquino's leadership; specifically, the allegation was that retired Philippine military officials "were trying to recruit troops to destabilize the government." According to Edwin Lacierda, a spokesman for the Aquino government, "there are no reports of restiveness among the rank and file."
Here your shocking statistic for the week: the U.S. effort to rebuild Afghanistan costs more than the Marshall Plan, the United States' post-war economic package to rebuild a large swathe of Western Europe following the Second World War. Of course, while the amount spent on Afghanistan is greater in inflation-adjusted absolute terms, it represents a smaller slice of the U.S. government spending pie today.
Over at Qishloq Ovozi, a blog run by Radio Free Europe, Casey Michel argues that despite Russia's historic closeness with Central Asia and cultural links, the region is gravitating towards China:
So, yes, Putin can prattle on about Russian hegemony, post-Soviet linkage, and cultural parallels, and his workers can plaster jaundice-colored texts outside as many embassies as they please. But that rhetoric — that threat —only expedites the reality. Central Asia is moving toward China. And Russian influence, or its long-term potential, is a mirage, fast fading.
Over at War on the Rocks, Tom Nichols argues that the U.S. pulling its troops out of South Korea would be a "really bad idea." The piece is a response to Christopher Lee's piece arguing that it is time for U.S. forces in South Korea to leave the country.