Can India and China Overcome Their Border Dispute?
Despite voiced commitments to closer ties, the border issue continues to overshadow China-India relations.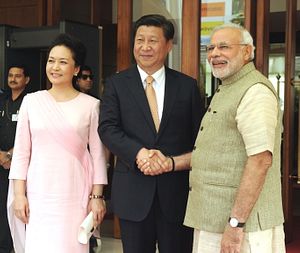 Xi Jinping's long awaited trip to India continues today, with Xi and Modi moving their meetings from the state of Gujarat to India's capital. However, as The Diplomat has noted, Xi's visit was partially marred by a stand-off between Chinese and Indian troops along their disputed border. The incident raised new questions of how far India-China cooperation can go without a resolution to the border disputes.
By design, Xi's major point of emphasis was on trade, not security issues. His op-ed for The Hindu highlighted areas of compatibility between the Indian and Chinese economies, summed up in his description of China as the "world's factory" and India as the "world's back office." The op-ed painted a picture of two great nations on the verge of a break-through in their relationship. "China-India relations have become one of the most dynamic and promising bilateral relations in the 21st century," Xi wrote.
To back up his words, Xi pledged $20 billion of Chinese investment in India over the next five years, with much of the investment centered on upgrading India railways system. The two countries are also beginning to discuss cooperating on India's nuclear power. China also plans to establish two new industrial parks in India, one in Gujarat and the other in the state of Maharashtra. Still, Indian media outlets, like The Times of India, were quick to point out that China's promised investment was significantly less than the $37 billion over five years offered by Japanese Prime Minister Shinzo Abe.
No matter how much investment he offered, Xi would have had a hard time emerging from the shadow of the ongoing border standoff between China and India. Bloomberg, citing an Indian army official, reported that around 500 troops from both China and India (up from 100 on each side earlier in the week) are facing off in the disputed Ladakh border region, between Indian-administered Kashmir and Chinese-administered Aksai Chin.
Given the ongoing situation, it's no surprise that Modi raised the border issue in his public remarks with Xi. Modi expressed India's "serious concern over repeated incidents along the border." He also "suggested that clarification of [the] Line of Actual Control would greatly contribute to our efforts to maintain peace and tranquility." The Line of Actual Control (LAC) demarcates the de facto border between Chinese and Indian administered territories; confusion over the exact placement of the LAC has been blamed for previous standoffs between Chinese and Indian troops. In 2013, after another border standoff, Indian Army sources told The Hindu that there had been over 150 incursions across the LAC by Chinese forces, and an unspecified number by Indian forces. To deal with the problem, Modi urged Xi to "to resume the stalled process of clarifying the LAC."
Modi also brought up Indian concern over China's visa policy, presumably the Chinese practice of stapling (rather than stamping) visas for Indian residents from the disputed state of Arunachal Pradesh. This practice has led to Indian travelers being barred from entry into China, especially members of youth delegations (such as two teenager archers on their way to the 2013 World Archery Youth Championships in China). Modi expressed his confidence that the "satisfactory resolution" of this and other border issues "would take mutual trust to a new level." The unspoken corollary: not resolving these issues risks stalling China-India relations.
The China-India disputes reflect a broader problem for China in its immediate neighborhood — how to balance a stern resolve to protect Beijing's territorial claims with the need for productive economic relationship with China's neighbors. China has long insisted that its rise is peaceful, and furthermore, that a peaceful environment in China's backyard is indispensable for China's continued rise. Yet at the same time, Chinese leaders have been vocal about defending their territorial claims to the last inch. The mixed messaging has caused some of China's neighbors to simply decide that China's "peaceful rise" is a lie.
Xi Jinping reemphasized China's peaceful intentions during his remarks with Modi, saying that China believes "a warlike state, however big it may be, will eventually perish." He also reaffirmed China's commitment to peaceful development and suggested that China and India "carry out friendly consultation [on the border issue] to seek a fair and reasonable solution that both sides can accept." In the meantime, Xi urged both sides not to let the border issues affect their larger relationship.
Easier said than done, of course. If the border dispute were so easily shelved, we wouldn't be seeing a stand-off during Xi's inaugural visit to India — exactly the time when both sides should be seeking to downplay their differences. Now, a visit that was originally devoted to economic deals has been overshadowed by the border dispute.
Xi Jinping's famous "China dream" calls for the "great rejuvenation of the Chinese nation" — and part of that involves reasserting Chinese control to territories it believes were "stolen" by other countries during a period of Chinese weakness. How Beijing can balance its ideal of a "peaceful rise" with achieving the territorial aspects of the "China dream" will ultimately determine how far China-India cooperation can go.