China's Economy: Stimulated But Not Aroused
Stimulus alone won't be enough to revive the Chinese economy.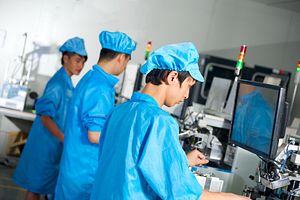 China's central bank recently implemented a limited stimulus by injecting 100 billion RMB into each of the top five banks. The stimulus took the form of direct injections in order to prevent other areas of the economy (such as real estate) from heating up once again. However, given China's restructuring status, it will likely take more than a stimulus to arouse the economy back to strong growth levels. For this, China can look to its own reform plans to alter the sectoral balance of the economy.
The type of jolt the economy needs may be associated with policies to enhance the service or high-tech manufacturing sectors, as laid out in the report from the March National People's Congress, projecting reforms for 2014. Potential reforms in these sectors that may steer the economy toward higher growth levels include: promoting trade in services; opening up banking, education, culture, and medical services to foreign investment; promoting nongovernmental services in health care; promoting delivery services; improving public services; establishing trial zones for service-based businesses; increasing R&D in industry; and enhancing modern logistics, financial leasing, energy conservation services, and inspection services. Lest the fact be missed, however, these reforms were slated for this year, and none has been implemented in any meaningful way.
While some of these reforms have been addressed, none has been fully pursued. For example, the Shanghai Free Trade Zone, which was to provide a test site for financial deregulation, among other things, has failed to attract foreign enterprises due to its failure to yield substantive benefits. The promise of nongovernmental health care has resulted only in the encouragement of nonprofit healthcare organizations at the village level and in the creation of a Medical Travel Zone to attract overseas medical services in Hainan. Although the Ministry of Health announced that 20 percent of all hospital beds would be funded by private investment by 2015, this has not happened – private investment in hospital beds is little more than halfway there.
If China's economy is to be restarted, it will need more substantive reforms. Labor-intensive manufacturing companies are facing rising costs, including increasing wages, and are moving abroad or diversifying to Malaysia and Vietnam. Chinese workers are becoming more sophisticated and consumption-oriented, seeking higher wages and better opportunities. The leadership is in favor of improving the services and high-tech manufacturing sectors, but appears to be stalled in lifting constraints to growth in these areas.
These constraints abound. In the logistics sector, state-owned enterprises dominate port, rail and air delivery services. The state-owned logistics sectors spans the nation and enjoys an advantage in more regulated logistics areas, such as rail cargo transportation. Similarly, China's telecommunications industry is dominated by three state-owned enterprises. Although these state-owned enterprises have recently allowed private enterprises to lease networks, cooperation with private businesses fails to break up the monopoly enjoyed by these large state telecommunications companies. Finally, barriers to growth in creation and manufacturing of innovative high-tech products include a lack of protection for intellectual property rights. Lack of enforcement of intellectual property rights ensures that innovation by private firms may be easily usurped by imitators who produce the same products.
To combat its own malaise, China needs real reforms in targeted industries. In general, the state sector remains too pervasive, and challenges to the growth of private sector enterprises are difficult to surmount. In contrast to what other analysts have asserted, the reform process does not have to be stalled in order to combat slowing growth. Slowing growth can only be addressed in a meaningful way by changing policies to promote employment and the expansion of particular sectors. Economic resuscitation and long-term growth need not, and should not, be mutually exclusive.