US, China Talk Ebola, Islamic State, and South China Sea
The U.S. and China make some progress on global issues, but remain largely entrenched on bilateral problems.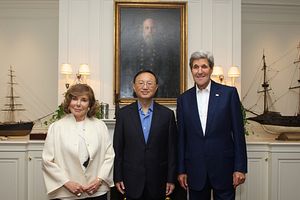 On Saturday, Chinese State Councilor Yang Jiechi met with U.S. Secretary of State John Kerry in Boston, Massachusetts, Kerry's hometown. As with National Security Advisor Susan Rice's visit to China last month, Yang's trip to the U.S. aimed to help lay the groundwork for President Barack Obama's visit to China this November. Obama will attend the APEC leader's meeting in Beijing and is also expected to hold an informal summit with Chinese President Xi Jinping, a follow-up to the 2013 Sunnylands Summit.
Interestingly, Yang and Kerry's meetings were also purposefully informal. According to a senior State Department official, the fact that Kerry invited Yang to his personal home in Boston was "an extraordinary gesture" that led to "an unprecedented and substantive dialogue" between the two men. The U.S. administration seems to have bought into what the official called "the spirit of Sunnylands," where informal small group discussion replace the traditional model of "formalistic, heavily structured dialogues with a phalanx of officials on both sides of the table."
The U.S. believes these informal dialogues are especially conducive when it comes to discussion "problem areas" – places where the U.S. and China have substantial disagreements. The State Department official listed human rights, cyberspace, and the South China Sea in this category. In a formal meeting, discussion of these rather intractable issues often consists solely of an exchange of talking points (something then-Secretary of State Hillary Clinton famously pointed out with regard to human rights in 2009). The State Department official denied that, this time at least, the talks on sensitive issues had "constituted simply a restatement of old positions." The official added, "these were constructive conversations in which both the secretary and the state councilor listened, [and] were able to probe… There was a clear sense of focus on making headway and not defending territory in the form of rhetorical positions."
Still, the official also cautioned that this meeting was merely one step in the on-going process of boosting U.S.-China cooperation. As such, there was no expectation of concrete achievements. Instead, the discussion helped set the tone for the Obama-Xi meeting in November.
The issues under discussion ranged from long-established topics (including human rights, the North Korea nuclear issue, and trade relations) to recently emerged global issues, like the Ebola outbreak and the rise of the Islamic State (IS). It was on these latter issues that U.S.-China cooperation seemed to have the most potential. On more intractable differences, such as the question of human rights (including the Hong Kong protests) and the South China Sea disputes, China's Foreign Ministry said that Yang "elaborated on China's principled positions" – which sounds an awful lot like the formulaic exchange of talking points that the State Department wanted to avoid.
On the topic of Ebola, both sides agreed to seek to expand their individual contributions and their cooperation.  "We are ready to intensify coordination and cooperation with the American side, make the best of our respective advantages, complement each other and join other countries in the world to help African countries combat the epidemic," Chinese Foreign Ministry spokesperson Qin Gang said after Yang's meeting with Kerry.
On counterterrorism, China continues to be hesitant about joining the U.S.-led coalition against IS, although Chinese officials repeatedly emphasize Beijing's commitment to fighting terrorism in a more general sense. The Chinese Foreign Ministry's statement on the Yang-Kerry meeting did not even mention IS specifically, but spoke more broadly about the potential for U.S.-China cooperation on counterterrorism. Meanwhile, Kerry and the State Department made it clear that their priority for counterterrorism cooperation continues to be pushing for a more robust Chinese role in the fight against IS.
Perhaps most interestingly, none of the Chinese Foreign Ministry's statements on the meetings touched on the issue of Afghanistan. The U.S. State Department made it quite clear Afghan security was on the agenda; John Kerry had it second (just after the Ebola outbreak) on his list of issues ripe for U.S.-China cooperation.  Both the U.S. and China have a strong strategic interest in seeing the new Afghan government under President Ashraf Ghani succeed in creating a stable environment for the country. For China, however, this question is somewhat sensitive, as it could cause tension between Beijing and long-time friend Pakistan. Given this, Chinese media chose to showcase last weekend's trilateral dialogue with China, Afghanistan, and Pakistan rather than emphasizing U.S.-China cooperation on Afghan stability.
The Yang-Kerry meeting emphasized the new trend of U.S.-China cooperation: things go much more smoothly when both sides are approaching issues far from home. The further a country is from China and the U.S., the more likely it is that Beijing's and Washington's interests are more or less aligned. Cooperation on the Ebola outbreak in West Africa and on fighting terrorism in the Middle East is thus more possible than tackling problems that hit closer to home. When it comes to solving the Korean nuclear question, or calming tensions in the South China Sea, the U.S. and China have divergent priorities and interests, making cooperation all but impossible. For the moment, the best hope for U.S.-China cooperation lies in their work to tackle problems of trans-national concern in far-flung regions.