Pakistan Start-Up Preserves a Disappearing Craft
Two young entrepreneurs are attracting attention with a start-up specializing in handmade leather shoes.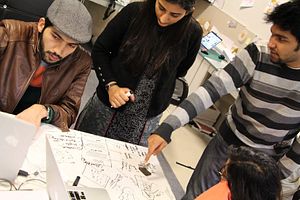 Waqas Ali and Sidra Qasim, two young Pakistani entrepreneurs, are on a mission to preserve the art and craft of handmade leather shoes through their start-up, Markhor. A Persian word meaning "snake-eater," Markhor is also the name of an endangered wild goat – Pakistan's national animal.
In 2010, Waqas Ali was sitting in the local village council in his village in Okara, Pakistan, when he overheard men talking about Facebook being banned in Pakistan because of a certain, blasphemous Facebook page ("Post Drawings of the Prophet Mohammad Day").
"They were saying the website [Facebook] was anti-Islamic," Ali states. We're sitting in a small office in Lahore's Arfa Software Technology Park where inspiring start-ups, initiated by young Pakistanis, like Markhor, have office space.
"At the time I was running a digital media company and I told Hussain about my company's page on Facebook and how it was helping me as an entrepreneur."
The two got talking and Ali soon discovered that Hussain owned a small unit in the vicinity where he made handmade leather shoes. Inspired, Ali visited Hussain's workshop. "It was a very small room where artisans were making shoes," he says, "At the time our initial plan was just to market Hussain's shoes through my company." However, Ali's digital media company wasn't doing very well and Hussain and his craftsmen were having trouble meeting their costs. "On their end, when they'd make a sample and go to retailers, they'd receive payment for their shoes 45 days after the date of manufacturing. So they suffered due to a lack of resources," states Qasim.
So in mid-2011, the duo decided to launch their shoe start-up with Hussain. Financially, both Ali and Qasim were struggling, but began piecing funds together slowly while working full time at different jobs. "We also started applying to different business competitions to take our idea off the ground," states Ali.
As luck would have it, the team landed $10,000 from the P@sha Social Innovation Fund in September 2011, a program that funds Pakistani start-ups that create an impact on society via the use of technology. It was then that Ali and Qasim informed Hussain and his team that they'd be working with the craftsmen on a full-time basis.
However, even though they won, the team only received the first portion of their funding months later, in February 2012. "That gap was a very tough time," says Ali, who laughs when he mentions how the team would sit at a local fast food joint to work since they couldn't afford office space.
Beginning their production in February once the initial funding came in, the team finally launched their website in June (in the same year, in 2012).
Markhor had officially gotten underway.
Interestingly, during Ali and Qasim's research into the shoe industry in Pakistan, Qasim mentions that while about 25 handmade leather shoe units were operating in Lahore in 2003, by 2010, the number had fallen to just three or four. The units were closing fast because no one was buying leather handmade shoes. Why? Primarily due to the cost. Handmade leather shoes (with leather soles) are a luxury compared to factory-produced shoes, which are far cheaper in comparison. "Manufacturers want to make shoes that consumers will buy immediately," Qasim says, "They can't meet their costs otherwise."
"The main focus of the big shoe brands in Pakistan has been to either have their shoes made in China, or, to get their materials from China (the spare parts), that they'd then give to their craftsmen to put together," Ali states, "Now, how can you get something like that done by an artist? You're basically asking an artist to frame printed pictures instead of making a painting!"
"There's a huge difference between handmade shoes and those manufactured in bulk," Qasim states, "With handmade shoes there is quality control for each process. If the shoe doesn't feel right, you can tell right there and then."
Currently Markhor has sold their products in 17 countries. In fact, the team was shocked when they found out that TED curator Chris Anderson wore a pair of their shoes during his interview with the Dalai Lama!
"We imagine the type of person who'd buy our shoes and then make the shoes around the idea of this gentleman.  We actually gave him a character. Noor, our designer, once asked me; what sort of shoe should I design? So I said, Noor, think about the man you want in your life," Qasim chuckles.
Initially, Hussain was managing a unit of five craftsmen; today, Markhor has 15-20 craftsmen working in their unit in Okara. Throughout the interview Ali and Qasim mention Hussain's consistent enthusiasm and excitement. "He began loving technology," Qasim says, "He had a Facebook and Twitter page and would ask us to put up updates for him. Sometimes he'd do it himself in broken English. Whatever he'd learn through us, he'd take back to his unit and teach his craftsmen."
Unfortunately, Hussain succumbed to cancer six months ago. "It was a huge loss for us," Qasim states, visibly emotional, "We're now working with his elder son who has taken charge of the unit."
Given Markhor's immense success and increasing media attention, the team is adamant about keeping their pace slow and not giving in to commerciality. "We're not trying to build a brand; we're trying to build a community," Ali says, "An inspiring community where the customer knows about the short-term and long-term vision of the company all the time."
Ali, who was invited by Zappos to the U.S. this year, where he met with the team, states that inspiration and ideas can come from anywhere in the world. "The best companies of the world can be built anywhere. Especially if you bring all the components of the community and bring them together," he says, "When you care about your team, your customers, your craftsmen, it all comes together. You don't need to be the best from the beginning to do amazing things. You can start from anywhere."
"Everyone struggles," states Qasim, "But when you know something meaningful is going to come out of it, that you're helping someone out there, it gives you courage." It was this very courage that drove Qasim through her family's adverse reaction to her plans to become a businesswoman. "I also realized the cost of not doing something was huge. If I wouldn't take a stand, then my sisters would never have the courage to stand up in their lives."
Currently only producing shoes for men, Ali mentions that they may launch a line for women in the near future, but it's too soon to say. For now, the team remains busy working on designs months in advance before production.
"We feel we have an added responsibility to be heroes for the local people," Ali states, "You should never forget where you came from and inspire people who are waiting for local heroes."
Sonya Rehman is a journalist based in Lahore, Pakistan. She can be reached at: sonjarehman [at] gmail.com