America's Frustration With South Korea
A recent State Department speech has revealed Washington's impatience over South Korea-Japan relations.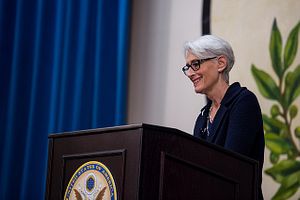 The gory photo of the U.S. ambassador to South Korea, Mark Lippert, covering the wound on his neck was a shocking sight in South Korea, a country where terrorism has virtually been non-existent – all the more so because Korea has been a key U.S. ally in the Asia-Pacific for decades. Interestingly, the knife attack came just days after a recent flaring of anti-U.S. sentiment across the South Korean media at disparaging comments made about the historical disputes between Japan and South Korea by the Under Secretary of State for Political Affairs, Wendy R. Sherman.
There is no apparent evidence to suggest the nascent tension with the U.S. is linked to the attack, which was carried out by a pro-North Korean extremist, Kim Ki-jong. But coming in the midst of brewing antagonism towards the U.S., the unfortunate incident has placed the South Korean government in an awkward spot.
During the 70th anniversary of the end of World War II at the Carnegie Endowment for International Peace, Sherman appeared to have accused the Chinese and South Korean governments of limiting "future possibilities for cooperation" in Northeast Asia by "vilifying a former enemy" [Japan] for "cheap applause," citing these examples: "[t]he Koreans and especially the Chinese are sensitive to any change in Japanese defense policy. The Koreans and Chinese have quarreled with Tokyo over so-called comfort women from World War II."
The comments have snapped a nerve ending in South Korea, with the local media throughout the political spectrum going into overdrive on what they see as U.S. siding with Japan on the historical dispute.
The left's flagship paper, Hankyoreh, ran an editorial titled, "U.S. should reflect on its next action after inflammatory remarks", saying "[t]he remarks are an enthusiastic endorsement of the position of the Japanese government, led by Prime Minister Shinzo Abe, who is not only reluctant to resolve the historical issues but in fact denies that they even exist."
The conservative paper, Joongang Ilbo's editorial, "Why can't they say Japan strains the tripartite relationship?" reads, "[Sherman] poured out diplomatically inappropriate comments… it is also a failure on our government's part for not convincing the U.S. that Japan's inappropriate recognition of its own past has been detrimental to the Korea,  U.S., Japan cooperation…Japan, on the other hand, has been much more active in transmitting their own reasoning to Washington." South Korea's politicians, too, have taken Sherman to task, with the ruling Saenuri party's Kim Eul-dong saying, "she could say we should forgive the Nazis and that was the fault of all Europe."
The backlash appears to be primarily due to the perception that U.S. has shifted from its previous stance: when she was Secretary of State, Hillary Clinton used the phrase "sexual slavery" to describe the comfort women issue, and Obama had condemned it as a "terrible" violation of human rights, a description that did not sit well with Tokyo.
Recent attempts by several Japanese politicians to revoke the 1993 Kono Statement that acknowledged the Japanese colonial regime's coercive recruitment of "comfort women" – an issue which really forms the core of South Korean resentment against Japan – have incensed the left, right, rich, and poor in South Korea. It is no wonder then that Sherman's claim that such "historical disputes" as the "so-called" comfort women "limit future possibilities for cooperation" has failed to capture the imagination of South Koreans.
The tripartite alliance with Japan and South Korea, however, is the cornerstone of America's rebalance to Asia. When historical disputes continue to strain ROK-Japan thread, for the U.S., it may be, as Sherman said, "understandable" but "frustrating." Perceived Japanese provocations on historical issues have created an anti-Japanese atmosphere in Korea that constrains bilateral relations. Despite its historical revisionism, Abe administration has regularly called for bilateral meetings with Park. However, the Korean president has only refused, and the only agreement between the two neighbors has come in the form of intelligence sharing, the signing of which had to be done below the public radar. Indeed, U.S. diplomatic officials in Washington have previously expressed frustration about this lack of progress.
But Sherman's pronouncements may also be an implicit expression of America's frustration over issues beyond ROK-Japan relations: South Korea's burgeoning affair with China. It is already South Korea's largest importer – with trade totaling about $290.5 billion last year, according to China's General Administration of Customs – and an FTA is soon to be underway as China's Premier Li Keqiang said a few days ago. More South Korean students are enrolling in Chinese universities and more Chinese tourists are setting foot in Korea. These economic and cultural ties have begun to influence Seoul's foreign policy decisions.
For instance, the Park administration's stance on U.S. proposals for the deployment of the Terminal High-Altitude Area Defense (THAAD) system in South Korea has been ambiguous. This was after China had effectively intimidated South Korea not to proceed with the deployment, in what was perhaps the most heavy-handed aspect of China's charm offensive to its neighbor. The warning came not just from political and military personnel; a popular military affairs columnist, Yu Yong-won, at the conservative paper Chosun Ilbo, quoted a private conversation he had with a senior official from an economic organization in Shanghai saying "should Korea go ahead with THAAD installation, I'm afraid there may be consequences for China and Korea's economic relations."
That China's looming clout may increase the pressure on South Korea to scale back its security ties with the U.S. has been cited in the 2014 U.S.-China Economic and Security Review Commission (USCC) report. Moreover, anti-Japanese sentiments will continue to provide China and South Korea with common cause, as other observers have noted. Indeed, there are some in South Korea who encourage acceding to Beijing's concerns as a way of balancing the two great powers. Proponents of this approach may see it as taking a neutral position, although China and U.S. will likely disagree.
In stark contrast, Japan has seamlessly aligned its security policy with U.S. objectives in the region. It has actively promoted the right to collective self-defense, which would enable Japan to assist the U.S. in the event of a military scenario on the Pacific Washington has enthusiastically supported this initiative. Japan also participates in the U.S. missile defense system, which is vital to the U.S. defense strategy in the region.
South Korea is a sovereign nation, and as such should choose its own path. Still, it is a crucial piece in Northeast Asia's geopolitical puzzle – a fact recognized by both of the region's two great powers.
Harry W.S. Lee is a freelance journalist based in Beijing. His work has also appeared in chinadialogue, ChinaFile, World Policy Journal, and the Korea Joongang Daily. Follow him on Twitter @harrylee8917