Diplomatic Access: Mongolia
Mongolian Ambassador to the U.S. Altangerel Bulgaa discusses Mongolia's vision for Asia.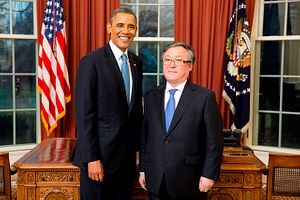 For spring 2015, The Diplomat presents "Diplomatic Access," a series of exclusive interviews with ambassadors from the Asia-Pacific region. By talking to these diplomats, we'll give readers a sense of each country's perspective on various regional economic and security trends — from TPP to the Silk Road Economic Belt; from the South China Sea disputes to the Islamic State. Check out the whole series to date here.
In our first interview, His Excellency Altangerel Bulgaa, Ambassador of Mongolia to the U.S., gives The Diplomat an overview of Mongolia's vision for and role in the Asia-Pacific.
The Diplomat: From Mongolia's perspective, what are the biggest threats to regional security?
Amb. Altangerel:  The Northeast Asian region is special in many ways. It is a region where the Cold war legacies still remain, where there is the dilemma of divided states, nuclear issues, and a number of territorial disputes. In addition to these underlying security issues, the presence of violent extremism, terrorism, environmental degradation, poverty, widening inequality gap, and rapid urbanization are becoming real challenges to the region's lasting stability.  These are real issues that if not addressed in a timely manner could pose a real threat to the region.
How can these threats be addressed?

These threats are all manageable. To manage them we need confidence-building and transparency.  We need to stick to the standing international norms and means in dealing with issues. Open and inclusive dialogues must replace forceful actions. Ways to resolve them should be discussed at every level: government, international organization, NGO and academic. The Ulaanbaatar Dialogue is a form of this attempt.
What role will the Ulaanbaatar Dialogue play in Mongolia's vision for regional security cooperation?
President Ts.Elbegdorj initiated the Ulaanbaatar Dialogue. It is a regional confidence building measure that promotes an open platform for regional and non-regional countries to exchange views and communicate on issues relating to Northeast Asia security, cooperation, and peace.
Since the launch of the initiative, Mongolia has organized a series of events, such as the Northeast Asian Women Parliamentarians meeting in 2013 and the Forum of the Northeast Asian City Mayors in 2014.
The track-two International Conference on the Northeast Asian Security,  held in June 2014, was attended by scholars and academics from many countries including Mongolia, DPRK, Republic of  Korea, China, Russia, Japan, U.S., the Netherlands, Germany and the United Kingdom. Participants discussed various issues of regional security including the Korean Peninsula issue. This conference received a very positive feedback.
How will Mongolia contribute to resolving regional issues, including the standoff over North Korea's nuclear program?
Mongolia has maintained friendly and close relations with the countries in the Northeast Asian region including the two Koreas. Mongolia and North Korea, other than realizing high level visits,  engage in educational and academic, artistic and athletic exchanges among our scholars, students and youth. There are no border disputes or unsettled issues of any kind, neither with Russia nor with China, the only two neighbors of Mongolia. We enjoy a nuclear-free status, which is formally recognized by the five Permanent Members of the UN Security Council. We hope these circumstances can offer a leverage in resolving the regional issues.
As we all know, the Korean Peninsula denuclearization is the most challenging issue in the region. Mongolia advocates and supports the principles of denuclearization and non-proliferation. These principles have been reflected not only in Mongolia's foreign policy priorities but in its national legislation. In 1992, Mongolia became the first country in the world to unilaterally proclaim its territory as a nuclear-weapon-free zone. The five permanent members of the UN Security Council pledged in a joint declaration to respect Mongolia's nuclear free status in 2012.
Mongolia has consistently supported the six-party talks and every effort toward a nuclear-free Korean Peninsula. Mongolia is optimistic that re-starting the six-party talks will contribute significantly to the regional security.
In the past three years, Mongolia has hosted visits from the U.S. Secretary of State and Secretary of Defense. How are Mongolia-U.S. relations progressing under President Obama's "rebalance to Asia" strategy?
Indeed, high profile visits as well as side meetings at the highest level are frequent between our two countries. Today Mongolia and the United States enjoy sound political and economic relations. Mongolia considers the United States as its most important "third neighbor." Both countries work toward developing cooperation on the principles of a comprehensive partnership that is based on our common values and shared strategic interests. The U.S. has always extended enduring and unwavering support toward Mongolia in every aspect and for that we are grateful.
We are committed to addressing our shared economic, security and development interests through multilateral institutions in the Asia-Pacific. We stand united in our efforts to protect and promote freedom, democracy, and human rights worldwide. Our troops serve side-by-side in Iraq, and now in Afghanistan. Our peacekeepers are deployed together in conflict prone African countries.
Mongolia and the U.S. signed Trade and Investment Framework Agreement in 2004 and the Transparency Agreement between our countries was ratified by the Mongolian Parliament in 2014. Given this legal foundation, there is a real chance to enhance our trade and economic cooperation with the U.S. and to bring more U.S. investment into Mongolia.
As of today, the U.S. is our fourth largest trading partner with a half billion USD in total trade turnover. However, with a direct investment amount of $300 million, it is only the eighth largest investor in Mongolia. This number needs to be increased.
This brings us to the extent that Mongolia is already an active part to the pivot strategy.
In this regard, expressing interest and joining the Trans-Pacific Partnership agreement could be a good opportunity for Mongolia to enhance its trade and economic relations with the U.S.
What goals does Mongolia have for trilateral talks with Russia and China?
Our foreign policy priorities are to maintain friendly and balanced relations with our neighbors, China and Russia; to expand our partnership through our "third neighbor" policy; to work closely with the countries of the Asia Pacific region, and to play an active role in the international arena.
Mongolia maintains a historic, traditional, comprehensive and at the same time a strategic relation with Russia and China.
Last year President Ts. Elbegdorj proposed the first ever trilateral summit between Mongolia, Russia and China, and it was held in 2014 on sidelines of the 14th Summit of the Shanghai Cooperation Organization (SCO) in Dushanbe.
Both countries are the largest trading partners of Mongolia. In the modern world, Mongolia sees its landlocked location between Russia and China as an opportunity to link them. Also the geographic proximity provides good opportunity for Mongolian products and services to access their markets.
What is the outlook for Mongolia's bid to join APEC? What would being added to the APEC bloc mean for Mongolia economically?
Being an Asia-Pacific country with a growing economy, Mongolia has an enduring aspiration to become a member of APEC. As a premier forum for facilitating economic cooperation, trade and investment in the Asia-Pacific, APEC's impact is huge on the Mongolian economy. Let me quote a few numbers for a better picture. The APEC economies account for 90 percent of Mongolia's foreign trade turnover; China, Canada and Russia make up 96.4  percent of Mongolia's exports; Russia, China, U.S., Japan and the ROK account for 76.8 percent of Mongolia's imports. Our neighbors (China and Russia) are the only gateway to sea. The APEC economies also dominate FDI inflows to Mongolia: China, Singapore, Canada, ROK, the U.S, Russia, Hong Kong, Australia, and Japan are among our top 12 investment partners.
Membership in APEC would provide an excellent opportunity to expand and diversify our trade and investment through removing tariff and non-tariff barriers.  For the APEC family, it would be expanded by a country with democratic governance, growing economy, rich natural resources, and a strategic location.