Global Defense Spending Is Down, But Asia's Spending Is Up
SIPRI's new annual estimate shows that while global defense spending dipped in 2014, Asia's continued to grow.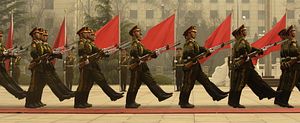 On Monday, the Stockholm International Peace Research Institute (SIPRI) released the latest edition of its annual measure of military expenditure worldwide, cataloging spending for 2014. Despite perceptions that the world is ever unstable with conflict — with instability on Ukraine's border with Russia, the Middle East, and North Africa — global military spending dropped ever so slightly, by 0.4 percent in real terms, since 2013 according to SIPRI's report. The fall marks the third consecutive year of global decline in military spending.
However, Asia and Oceania, our regions of interest here at The Diplomat, broke with global trends, with military expenditure rising by 5 percent, reaching a total of $439 billion. That number should be somewhat unsurprising given that Asia is home to major emerging economies such as India and China, both of whom are not only experiencing annual GDP growth in excess of 5 percent but are rapidly growing their militaries. In its press release for the 2014 report, SIPRI highlights China's role in Asia's overall growth, noting that the region's "increase is mostly accounted for by a 9.7 percent increase by China, which spent an estimated $216 billion." This is considerably higher than China's stated official budget for 2014, which was reported as $132 billion.
SIPRI offers additional highlights on spending in the Asia and Oceania region:
Among the other major spenders, Australia increased its spending by 6.7 per cent, with smaller increases by South Korea and India of 2.3 and 1.8 per cent, respectively, while Japan's spending remained steady. Viet Nam, which has had tensions with China over territorial disputes in the South China Sea, increased its spending by 9.6 per cent. Conversely, Indonesia, a fellow South China Sea-littoral state, broke its trend of several years of increases with a 10 per cent cut in 2014.
If the 5 percent year-over-year rise doesn't quite impress you, consider that military spending rose 62 percent in the nine years from 2005 to 2014. However, SIPRI notes that the global financial crisis of 2008 and the ensuing fiscal tightening across the region suppressed military spending somewhat. In India's case, for example, defense spending growth was "essentially flat" since 2009 compared to a 45 percent rise between 2004 and 2009. In China's case, the effect of the financial crisis was less pronounced–though its spending doubled between 2004 and 2009, SIPRI measured a 48 percent growth in real spending between 2009 and 2014.
The Diplomat covered recent defense spending in India and China. China's 2015 spending will rise 10.1 percent over last year. My colleague Franz broke down India's 11 percent defense increase, with some concerns about the adequacy of India's overall spending (I'm of the opinion that India's spending, while not ideal, is certainly "adequate"). Japan, meanwhile, approved a record defense budget for 2015.
The SIPRI "Trends in World Military Expenditure, 2014" fact sheet is available here.