Shades of Grey in Afghanistan: A Conversation with James Creighton
Ankit Panda speaks to Col. James L. Creighton (U.S. Army, Ret.) about his experiences working with an Afghan warlord.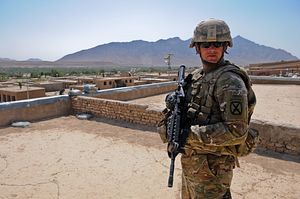 The EastWest Institute's Col. James L. Creighton (U.S. Army, Ret.), a former commander of Combined Team Urozgan and Chief of Plans for the International Security Assistance Force (ISAF) in Afghanistan, speaks to The Diplomat's Ankit Panda about his recent article describing his experience working with Afghan warlord Matiullah Khan. Matiullah Khan was recently killed in a suicide bombing (see the New York Times' coverage here). In the second half of the podcast, Creighton and Panda discuss the state of relations between Afghanistan and Pakistan.
You can listen to the previous Asia Geopolitics podcast episode featuring Creighton here.
Click the arrow to the right to listen. You can also subscribe to The Diplomat's Asia Geopolitics podcast on iTunes here. If you like the podcast and have suggestions for content, please leave a review on iTunes.