India's Soft Power Potential
The country has plenty, but it will need a more strategic approach to harness it.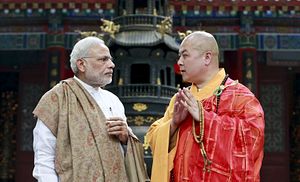 On June 21, the world will observe International Day of Yoga for the first time ever. A United Nations resolution to this effect that India moved in the General Assembly last year was co-sponsored by an unprecedented 170 countries. It "reflected yoga's immense popularity worldwide, underscoring its richness as a soft power resource," an official from India's Ministry of External Affairs (MEA) told The Diplomat.
Yoga is among the themes that figured during the recent visit of India's Prime Minister Narendra Modi to China, Mongolia, and South Korea. Clearly, India is dipping into its ample soft power resources in its diplomatic engagements abroad.
But first, what is soft power and why are countries looking to it in their conduct of diplomacy? According to Harvard political scientist, who coined the term, soft power is the ability of a country to persuade others to do what it wants without resorting to force or coercion. Soft power, he said, lies in a country's attractiveness and comes from three resources: its culture (in places where it is attractive to others), its political values (when it lives up to them at home and abroad), and its foreign policies (when they are seen as legitimate and having moral authority). Though slower to yield results, soft power is a less expensive means than military force or economic inducements to get others to do what we want.
India boasts an amazing variety and wealth of soft power resources. Its spiritualism, yoga, movies and television soaps, classical and popular dance and music, its principles of non-violence, democratic institutions, plural society, and cuisine have all attracted people across the world. Indian foreign policy analyst C Raja Mohan observed that India holds "strong cards in the arena of soft power" to further its foreign policy goals.
It is only over the past decade or so that India has begun to play its soft power cards more systematically. Besides setting up a public diplomacy division within the Ministry of External Affairs in 2006 and expanding the Indian Council for Cultural Relations (ICCR) worldwide, it has roped in the Ministry of Tourism, which is behind the "Incredible India" campaign, and the Ministry for Overseas Indians "to showcase its social, political, and cultural assets abroad," Rohan Mukherjee, a research scholar at the Department of Politics in Princeton University told The Diplomat. These government actors are working to leverage India's soft power "by using it to support larger foreign policy initiatives such as the Look East Policy (now Act East), the Connect Central Asia policy, and developing strategic aid and trade partnerships in Africa," he said, adding that in each of these initiatives, "official diplomacy has been buttressed by cultural exchange and efforts at increasing public knowledge and appreciation of India in foreign countries."