Why the Next US President Should Pivot to the South China Sea
The U.S. needs to get proactive and expand the scope of activities with new partners like Vietnam.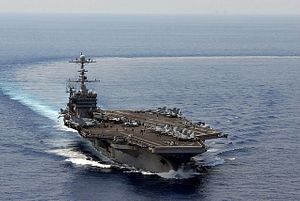 A handful of Democrats and Republicans have expressed an interest in running for their party's 2016 presidential nomination while others are considering. Whoever is elected as the next president of the United States, he/she should place higher priority on the South China Sea (SCS). Why?
First, the SCS has emerged as a central aspect of regional geopolitics of the Indo-Pacific. The issue has been high on agenda of both track I and track II diplomacy, from day-to-day discussions to regional strategic calculations and beyond. It encompasses both traditional and non-traditional security issues, and engages major players in Indo-Pacific, including the U.S., China, India, Japan, ASEAN, and its member states. More importantly, the SCS is widely seen as a litmus test of Beijing's strategic intentions and actions, and of Washington's resolve.
Second, U.S. policy towards the disputes in the SCS has been largely reactive. In retrospect, Washington has modified the content of its policy in response to tensions triggered by China's assertive posture in the SCS. For example, the first U.S. policy statement on the Spratlys and the SCS was released in 1995 in response to growing instability deriving from China's move to seek control of Mischief Reef. Meanwhile, when then Secretary of State Hilary Clinton declared at the 2010 ASEAN Regional Forum that the U.S. has national interest in freedom of navigation, it was a corollary of a series of aggressive Chinese actions, including harassment of the USNS Impeccable. A U.S. State Department document, Limits in the Seas, released in consequence of China's unilateral actions, particularly the HD-981 episode, found that Beijing's 9-dash line is inconsistent with international laws.
Third, regardless of Washington's call for upholding a rules-based stability in the region, Beijing insists on altering status quo by "sheer size and muscle." Most recently, the U.S. warned China against "militarizing" the SCS through its land reclamations and constructions on some of the features it has occupied in the Spratly archipelago, which fuel anxiety within the region, and urged it to avoid destabilizing activities. Beijing responded by arguing that it is "building shelter, aids for navigation, search and rescue, etc.," and it "does not affect and is not targeted against any country." However, the Fiery Cross Reef images published by CSIS Asia Maritime Transparency on its website show different outcomes of the constructions (for instance, a 3,110-meter airstrip that can accommodate almost any type of aircraft; and port facilities that may be capable of docking military tankers). Once the constructions are complete, American military bases in the region will be under growing threat from these outposts.
Clearly, the U.S. should make some adjustments to its SCS policy, so that it becomes more proactive. Specifically, (i) Verbal assertions of freedom of navigation remain insufficient. The U.S. naval and air presence in the SCS must be maintained or increased; (ii) The U.S. should reinforce a new web of partnerships throughout Asia that includes traditional allies but goes beyond them. Among the new team in Southeast Asia, Washington should deepen ties and seek to expand the scope of joint activities with Vietnam in the maritime domain
Thuc D. Pham is a SCS researcher at the Diplomatic Academy of Vietnam. The opinions expressed in the article are those of the author and do not represent the views of the institutions to which the author is attached