Chinese High-Speed Rail May Be Coming to Russia
China Railway Group will likely win a contract to build a high-speed railway connection between Moscow and Kazan.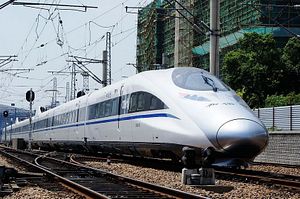 Just as the European Union confirmed a six-month extension of sanctions against Russia for its continued intransigence in Ukraine, where it continues to back anti-government rebels, a report emerged in the Wall Street Journal that China's state-owned China Railway Group had signed a contract to plan and design a nearly 800 kilometer high-speed rail connection between Moscow and Kazan. The timing of these two developments is yet another indication that as Vladimir Putin finds himself alienated by the West over his actions in Eastern Europe, Russia is looking eastward for new commercial and economic linkages.
According to the WSJ report, which cites Vladimir Yakunin, the president of Russia's state-owned JSC Russian Railways, China Railway Group will work alongside two Russian firms over the next two years to come up with a set of designs for the high-speed rail connection between Moscow and Kazan. This initial contract is for a relatively modest $383 million. Yakunin notes that the actual contract for the construction of the railway itself is "quite likely" to go to the Chinese firm, but that this isn't guaranteed. Yakunin notes that "of course the one who is participating in the planning has an advantage. This is obvious."
The high-speed rail contract comes just over a year after Russia signed a 30-year, $400 billion natural gas supply deal with China. Since then, Russia has turned into a welcoming destination for Chinese firms, both private and public, looking to invest in Russia. Given the moribund prospects for Western investment in energy, finance, and infrastructure projects, the Kremlin can't help but look to China which continues to expand its economic clout. Beyond the natural gas deal, in early May, Russia and China signed a $25 billion deal that will see financing for up to $25 billion flow to Russian companies from Chinese banks.
In a broader geopolitical sense, there remains uncertainty about the extent to which Russia and China are converging strategically. Current economic dynamics reveal that China is in the "driver's seat" of this relationship. After over two decades of reliance on investment inflows from the West, Russia will have recalibrate toward China as it seeks to ameliorate credit shortfalls as a result of Western sanctions.
In the case of high-speed rail, China is particularly attracted to Russia. China's attempts at concluding contracts for high-speed rail construction have run into roadblocks across the world, including in Thailand and Mexico, as The Diplomat has previously noted. China Railway Group's bids for projects abroad emphasize the many competitive advantages of Chinese high-speed rail: low costs, speedy construction, and readily available financing (via China's Export-Import Bank). Despite these factors, concerns of transparency (in the Mexican case) have derailed any final contract. China's railways industry will welcome the windfall of Russian business, thanks in part to Russia's isolation from the West.