Singapore Celebrates Independence With Large Military Parade
The military display included some of the city-state's newest weapon platforms.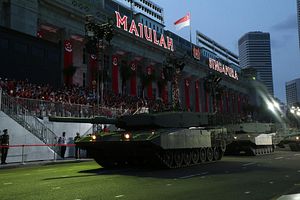 Singapore celebrated its 50th year of independence with a military parade on August 9  featuring 179 vehicles and platforms. The parade included the first public display of the Peacekeeper Protected Response Vehicle (PRV), the Leopard 2 Armored Engineer Vehicle (L2-AEV), the new Combat Ambulance, and a new variant of the Bronco all-terrain tracked carrier.
Only commissioned in July of this year, the new PRV features an integrated Remote Control Weapon System and is armed with three weapon systems – a 7.62mm machine gun, a 12.7mm heavy machine gun, and 40mm automatic grenade launcher. It will replace the aging Commando V-200 armored personnel carriers (APC) that have been in use with the Singapore Armed Forces (SAF) since the 1970s.
Sporting the Leopard 2 main battle tank (MBT) chassis and armed with a 13.7 mm heavy machine gun, the L2-AEV is primarily a mine-clearing vehicle but can also be used for a number of combat-engineering tasks such as obstacle clearing missions.
The parade also featured the Leopard 2SG MBT armed with a 120mm smoothbore gun, the Armored Recovery Vehicle, Bionix II Infantry Fighting Vehicle, Terrex Infantry Carrier Vehicle and the Light Strike Vehicle Mark II among a host of other platforms.
Interestingly, the parade also featured underwater drones such as the REMUS Autonomous Underwater Vehicle, as well as the K-STER Expendable Mine Disposal System. The Republic of Singapore Navy (RSN) also showcased its new Specialized Marine Craft (SMCs) designed for base defense, force protection and various maritime security operations.
The parade's aerial component contained 50 aircraft including 20 F-16C/D/D+ fighter jets, four F-5 Tiger and four F-15SG combat aircraft, G550 airborne early warning (AEW) aircraft, KC-135 tanker, the Fokker 50 maritime patrol aircraft (MPA) and the C-130 Hercules transport plane. The flypast was started with a helicopter formation of two S-70B naval helicopters, two AS-332 Super Pumas, two AH-64D Apaches, and two CH-47 Chinooks.
Singapore's military is facing a manpower shortage – the number of conscripts is estimated to decline by 30 percent over the next 15 years. Consequently, as I reported back in March (See: "Singapore's Defense Budget Climbs 5.7 Percent"), "each time a platform is planned, in fact, one of the key questions is how can do it with less people," Singapore's Minister for Defense Ng Eng Hen explained during the 2015 Committee of Supply debate.
The SAF are also stepping up investments in cyber defenses, unnamed aerial vehicles, information technology, robotics, and artificial intelligence.