Afghanistan's 32-Year Refugee Crisis
For three decades Afghanistan was the world's largest producer of refugees. Millions have returned but problems remain.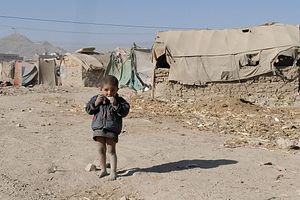 Afghanistan's refugee crisis is decades old. Afghans began fleeing the country after the Saur Revolution in 1978; more fled in the opening scenes of the Soviet invasion in 1979 and throughout the war. Another wave left during the civil war in the early 1990s, and when the Taliban seized control even more fled. The U.S.-led war in Afghanistan over the last decade has both pushed yet more Afghans to leave the country, while the U.S. and other international donors have invested in assisting returnees. The Costs of War project writes that "before the recent upsurge in violence in Syria and Iraq, the United Nations High Commissioner for Refugees (UNHCR) reported that Afghanistan remained the world's top producer of refugees for the 32nd year in a row" in 2014, with more than 3.7 million as of July 2014, 700,000-plus of which are internally displaced persons (IDPs).
According to UNHCR, since 2002 more than 5.8 million Afghans have returned from abroad. Still, as of December 2014, nearly 2.5 million Afghan refugees (both registered and undocumented) lived in Pakistan, with nearly a million more in Iran.
The latest audit report from the Special Inspector General for Afghan Reconstruction (SIGAR) highlights that the State Department (and by extension UNHCR, on which State relies for data on refugees) are unable to independently verify the number of Afghan refugees in Pakistan and Iran. That's despite Washington spending nearly $1 billion since 2002 on assistance to Afghan refugees in Pakistan and Iran and programs to facilitate repatriation to Afghanistan and help returnees and IDPs. The SIGAR report comments that "State relies on UNHCR current- and future-year projections on Afghan refugees, among other factors, to help inform its annual funding requests to Congress for programs intended to support Afghan refugees."
Without accurate data, State is hard-pressed to lobby Congress for adequate funding for Afghan refugee programs. Meanwhile, Afghans displaced by revolution, occupation, and war suffer off the front page.
In 2006, Pakistan and UNHCR implemented a program to register refugees, but the National Database and Registration Authority (NADRA) "has not conducted any new refugee registrations since 2007 when it registered 2.2 million Afghan refugees living within its borders." An official with State's Bureau of Population, Refugees, and Migration (PRM) told SIGAR that NADRA "does not consider Afghans who arrived in Pakistan after the 2007 registration to be refugees." Moreover, registrations for an entire family can be renewed by the head of the household alone, meaning Pakistan does not have actual verification that all those registered are still alive. Families may not report deaths or may not turn in their refugee cards upon return to Afghanistan, instead using them to move across the border more easily.
One particularly shocking data point revealed by the SIGAR audit is that while UNHCR estimates that each year 23,000 Afghan refugees die in camps in Pakistan, the Pakistani government reported only nine deaths between January 2008 and June 2014. In addition, Afghans residing in Pakistan are increasingly crushed between Kabul and Islamabad and the ongoing insurgency on both sides of the border. Reuters recently profiled one refugee family that is reluctant to return to Afghanistan but cannot stay in Pakistan — after the Peshawar attack anti-Afghan sentiment began to rise:
[Abdul] Manan said police started showing up at their home, asking to see their papers and threatening them with jail if they failed to pay 1,000-1,500 rupees ($10-15) every few days.

"We decided to leave, there was no other option. We couldn't keep paying 1,500," said Manan. "This is our home and we have no other place to go."
With regard to Afghan refugees in Iran, the lack of U.S. relations with the country stymies efforts to verify UNHCR data. State does compare UNHCR data to that of other organizations — such as the International Committee of the Red Cross and the International Organization for Migration — but some of these organizations also use UNHCR data.
Problems in Pakistan and Iran aside, the Afghan Ministry of Refugees and Repatriation (MORR), has been plagued by corruption and unable to make significant progress toward implementing the strategy developed in 2012 among the concerned parties — the governments of Afghanistan, Pakistan, Iran, the U.S., UNHCR and others. The Solutions Strategy had been developed in response to declining returnee numbers and persistent problems in the reintegration of returnees. While returnee rates have increased, many Afghans arrive with no property and a significant aspect of the Solutions Strategy involves redistribution of land to returnees. But MORR has been unable to adequately allot land to returned Afghans. A 2013 anti-corruption assessment "cited bribery, forgery, nepotism, embezzlement, and poor customer service as obstacles to the program's implementation."
As a result, State made the decision, which SIGAR calls "necessary," to cease funding MORR. SIGAR instead recommends that the State Department monitor the Afghan administration's efforts to weed out corruption and build capacity in MORR and, when appropriate, reinstate funding for the ministry.