Thailand Cuts 2015 Economic Growth Forecast
Revised figures compound anxieties about Southeast Asia's second-largest economy.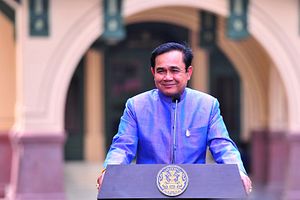 Thailand's central bank on Friday cut the country's 2015 economic growth forecast for a third time this year.
The Bank of Thailand (BoT) forecast was revised downward from 3.0 percent in June to 2.7 percent, about half of the rate that was expected just a year ago.
Assistant Governor Mathee Supapongse also told a news conference that the central bank had slashed its export growth projection from a 1.5 percent fall to a much steeper 5.0 percent decline. Thai exports constitute around 60 percent of the economy.
"The main reason for the downgrades is still external factors, especially exports. The economy will recover gradually but downside risks remain fairly high," she said.
The BoT also cut its 2016 economic growth forecast to 3.7 percent after raising it to 4.1 percent in June, and slashed its 2016 export growth forecast to 1.2 percent from 2.5 percent earlier this year.
The figures will compound fears that the ruling junta appears unable to put Southeast Asia's second-largest economy back on track despite its best efforts since taking over following a coup last May. Thailand's economy grew only 0.9 percent in 2014, the lowest rate recorded since 2011, when the country experienced its worst flooding in decades.
As The Diplomat reported last month, Prime Minister Prayut Chan-o-cha had reshuffled his cabinet in a bid to quell anxieties about the economy, with the most significant change being the installation of Somkid Jatusripitak as deputy prime minister and head of the economic team (See: "Thailand's Junta Reshuffles its Cabinet Amid Uncertainty"). This month, Somkid has helped unveil a series of measures to boost growth, including programs to channel funds to rural communities.
Whether or not this will help reverse Thailand's economic slide, however, remains to be seen. How these reforms work domestically is only part of the equation, with regional and global economic conditions also playing a major role. This week, the Asian Development Bank lowered its own growth forecast for Thailand from 3.6 percent to 2.7 percent, citing a variety of factors including the slowdown in China's economy and sluggishness in export demand from other major economies struggling to rebound.