China GDP Fails to Calm Bears
The official figure was nearly on target, but critics are unappeased.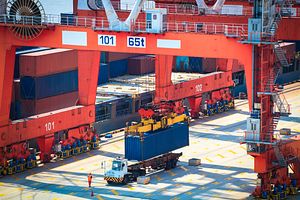 China's latest gross domestic product (GDP) data has failed to placate fears over the health of the world's second-biggest economy. Despite beating market expectations, the communist giant's worst quarterly performance since 2009 has sparked calls for more action by Beijing to prevent an even bigger slowdown.
Amid fears of another "China shock," on Monday China's National Bureau of Statistics announced a 6.9 percent rise in GDP during the third quarter, beating economists' estimates of 6.8 percent but well ahead of more pessimistic forecasts.
Although the slowest quarterly expansion since the depths of the global financial crisis, the number fell only slightly below the official target of 7 percent, reassuring financial markets but failing to appease critics.
"China continues to overstate GDP growth," Capital Economics economist Julian Evans-Pritchard warned. "These figures need to be taken with a grain of salt as official GDP growth appears to have become a poor gauge of the performance of China's economy."
Other analysts pointed to the so-called "Li Keqiang index" – named after the Chinese premier – as indicating GDP growth could be as low as 3 to 4 percent, as measured by electricity, rail and loan data.
Bloomberg News pointed to signs of a sharp slowdown, including nominal growth coming in at 6.2 percent, the worst GDP deflator reading in six years. The outlet also cited its own monthly GDP tracker, which showed a further deceleration from the prior month, from 6.64 to 6.55 percent.
The downturn in traditional "rust belt" industries continued, with fixed asset investment slowing to 10.3 percent in the first nine months of 2015, its slowest pace since 2000 and well below the government's 15 percent target. Industrial output grew by only 5.7 percent in September, down from the previous month's 6.1 percent and missing economists' estimates, while electricity production contracted by 3.1 percent.
China's property overhang continued to weigh on the economy, with land purchases by developers crashing by more than 33 percent in the first three quarters, dragging down investment growth. According to UBS, it could take 20 months to work through the oversupply of apartments in "third tier" provincial cities, 18 months in "second tier" cities and 10 months for major centers such as Beijing and Shanghai.
"Industrial production is weakening despite efforts by Beijing to stimulate the economy," China analyst Andrew Collier told Bloomberg News. "Rural [fixed asset investment] is declining, which suggests that, despite desperate efforts by local governments to keep the wheels of investment churning, the money is not adequate to keep investment up."
Despite stronger-than-expected exports, export growth contracted by 5.4 percent in the three months to September, while import growth slumped by 13.7 percent, showing the effects of Asia's lingering trade recession.
Nevertheless, Asian investors welcomed the GDP data, with China's benchmark Shanghai Composite Index closing virtually flat, Hong Kong marginally higher and Singapore and Tokyo shares ending slightly weaker.
Two-Speed Economy?
In signs of a "two-speed economy, " China's transition to consumption-led growth continued, with consumer spending accounting for 58 percent of GDP in the first nine months. The services industry's expansion reached 8.4 percent, ahead of 6 percent for secondary and 3.8 percent for primary industries in the first nine months, while retail sales grew by 10.9 percent in September.
"Traditional macroeconomic output indicators are giving a distorted picture of China's growth," BNP Paribas Investment Partners economist Chi Lo told Bloomberg News.
"China's economic weakness may not be as dire as many observers think, even though industrial output, electricity consumption, freight volume and demand for raw materials have all grown slower than the headline GDP growth rate."
As the Australian Financial Review's Philip Baker noted, "So despite all the noise –worries about a shadow banking crisis, a glut of apartments that can't be sold and a near 30 percent fall in the Shanghai Composite during the third quarter that combined to spook global investors – the economy didn't fall in a heap."
Concerns of a China crash dragging down global growth have been amplified by the latest world GDP data, which has showed continued weakness in emerging economies after their previous role as global pacesetters.
In its latest "World Economic Outlook" report, the International Monetary Fund cut its forecasts for the world economy and warned of the fifth straight year of slowing growth in emerging and developing economies. China is expected to slow from 7.3 percent GDP growth last year to 6.8 percent in 2015 and 6.3 percent next year, with a significant risk of a harder landing should the expected rebalancing prove "more challenging than expected."
ANZ economists Li-Gang Liu and Louis Lam have urged Beijing to take further stimulus steps, predicting GDP growth of only 6.8 percent in the fourth quarter and for 2015.
"As growth slows and risk of deflation heightens, we reiterate that China needs to cut [its] reserve requirement ratio by another 50 [basis points] in Q4. Looming deflation risk suggests that the [People's Bank of China] will also adjust the benchmark interest rates, especially lending rate, down further," the economists said in an October 19 research report.
Amid continued debate over the quality of China's GDP data, Asian economies have sweated over the health of the region's biggest economy. Second-ranked Japan, the world's third-biggest economy, could slip into recession should its major trading partner suffer further weakness, while India, Singapore and Taiwan have all eased policy in recent weeks to stimulate growth.
For commodity exporters such as Australia and Indonesia, sluggish demand from the world's biggest commodity consumer could delay a recovery in prices, causing further damage to coal and other resource industries, while energy prices have remained weak.
China's Premier Li has reportedly acknowledged the concerns over the economy, telling Reuters the nation needed to "rely on reform and opening up to solve the problem."
With the stakes getting higher for Asia and the world economy, can Beijing pull another rabbit out of the hat?