North Korea's Military Parade: Major Takeaways
North Korea commemorated the 70th anniversary of the Korean Worker's Party's founding, with China looking on.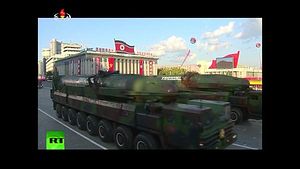 On Saturday, October 10, North Korea celebrated the 70th anniversary of the founding of Korean Workers' Party. At the center of the celebrations was a major national parade through Pyongyang's Kim Il-sung Square, which featured everything from goose-stepping Korean People's Army (KPA) troops and slow-rolling jungle camouflaged transporter erector launchers (TELs) for North Korea's latest and greatest missiles. For Asia observers who'd watched China's September 3 parade a little over a month ago, the spectacle was familiar in its form but clearly different in its details.
Adding that classically North Korean touch to the entire event, Kim Jong-un delivered remarks, expressing his gratitude and admiration for the KPA and notifying the world that North Korea's soldiers were "ready for any kind of war against the United States." Kim's speech brought to life the words that traditionally flow from the regime's state media outlet Rodong Sinmun, which regularly calls for war against South Korea and the United States. Notably, Kim's remarks did not include any references to the country's nuclear weapons program or threaten nuclear weapon use. For Kim, the parade was a rousing propaganda success. Clad in black and there to be seen by all, the event was an opportunity for the young leader, rumored to have been beleaguered by factionalism and opposition within his own government, to emphasize his command over the country's armed forces.
As Shannon Tiezzi noted ahead of the parade, Liu Yunshung arrived in Pyongyang on Friday on a four-day visit. Liu is the first member of the Politburo Standing Committee, to visit North Korea since Kim Jong-un became the country's leader after his father's death. On Friday night, shortly after his arrival Liu presented a letter from Chinese President Xi Jinping into Kim Jong-un's hands, suggesting that, despite the optics of the past 16 or so months, China and North Korea may finally be ready to move toward a thaw of sorts. China has historically been North Korea's closest partner and benefactor.
Liu wasn't tucked away during the parade. In fact, the fact that he stood on the podium along with Kim during the parade was taken by many North Korea observers and analysts as an attempt by the regime to highlight that all was well between Pyongyang and Beijing. Liu's presence on the podium was unmistakable: he was the lone man in a western suit and tie, surrounded by a Kim's usual coterie of KPA generals (who made sure their many medals of valor were seen at this event).
For observers of North Korean military hardware, a widely broadcast parade such as this one provided a unique opportunity to take a look at the normally closed-off country's equipment. The KPA paraded TELs carrying the KN-08/Hwasong-13 inter-continental ballistic missile, the country's most advanced and as-yet untested long-range ballistic missiles that resemble SS-N-18 Vysota variant. Also on display were some of the older systems, including the Nodong, Musudan, and Scud-C missile systems.
The October 10 festivities in North Korea are also notable for what they didn't include: any ballistic missile or satellite launches. Leading up to Saturday, most experts didn't expect that we would see a major launch of any sort, but it is still notable that Pyongyang chose to abstain from a missile launch on this anniversary. North Korea's ballistic missile launches generally correlate to significant dates and occasions; they are also used to express the North's frustration with South Korea and the United States.