US Breaks Ground on New Embassy in Turkmenistan
When is a building, just a building?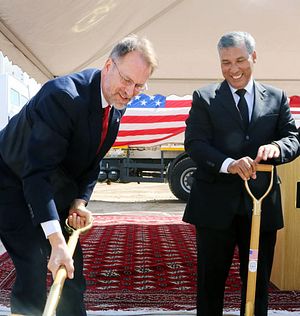 The United States first opened an embassy in Ashgabat, Turkmenistan on March 17, 1992. Today, the U.S. Ambassador to Turkmenistan and the Mayor of Ashgabat broke ground on a new embassy complex, set to be completed by summer 2018.
According to the U.S. State Department's Bureau of Overseas Buildings Operations, the new embassy is expected to cost $266 million and include a main embassy building, a U.S. Marine Corps residence, housing for staff, a warehouse, maintenance shops, a utility building, parking, community facilities and a new street. The new embassy compound will occupy a 17.3 acre site on Archabil Avenue on the outskirts of Ashgabat, "within walking distance from the Ashgabat International School."
"Our decision to build a new, bigger Embassy here is symbolic," Ambassador Allan Mustard said at the groundbreaking ceremony. "The New Embassy Compound is an indication of our enduring commitment to Turkmenistan."
Mustard categorized the new Embassy compound as more than just an office building. "This compound will welcome families and strengthen our partnership with the school, the broader community, and the people of Turkmenistan as a whole."
In a fact sheet about the new Embassy, the State Department says "The building is designed within the context of Ashgabat, a city of white marble and geometrical architecture style."
Turkmenistan's President, Gurbanguly Berdimuhamedov, has a noted obsession with white marble and beautifying the Turkmen capital. Earlier this year, the city unveiled a bronze statue, covered in 24-carat gold leaf, of the president riding a horse atop a massive marble pedestal. The monument is 69 feet tall. I called it a "69-foot distraction" because while news agencies around the world ran pithy stories about the bizarre monument, Turkmenistan's depressing human rights record and fragile economy remain footnotes in international news.
According to a 2013 report from Agence France Presse, Turkmenistan has spent billions on beautifying the capital:
The gas-rich desert country says that the massive spending spree has already poured in $8 billion in international investment and $1.9 billion of its own funds since gaining its independence from the Soviet Union in 1991. "We are directing the profit from gas exports into improving the quality of life of our people," President Gurbanguly Berdymukhamedov said.
Turkmenistan has sustained considerable growth rates since independence mostly due to a booming energy trade. While the dip in hydrocarbon prices over the past year has touched the Turkmen economy, its largest trading partner–China–remains hungry for Turkmen gas and owing to progress between the West and Iran, Europe is keen on tapping into Turkmen reserves as well. Still, Turkmenistan is not completely insulated from regional or global economic instability. In September, as reported by Eurasianet, state media carried reports that Turkmen authorities were proposing to abolish notable parts of the welfare state: free electricity, cooking gas and water.
Ashgabat's construction boom, as Bradley Jardine wrote for The Diplomat in September, benefits only a select few in Turkmenistan. While the Turkmen government poured millions into constructing resort hotels along the Caspian Sea, bulldozers tore down Turkmen homes. Jardine concluded that the construction industry, like the energy industry, has become "a key mechanism of regime stability."
Ashgabat uses construction as "a key means of transferring patronage among the elites," Jardine noted. Meanwhile, Washington is trying to use construction as a form of messaging. "This is not just another building project in Ashgabat," Mustard said at the ground breaking.