US Fighter Jets Intercept Russian Aircraft Approaching US Aircraft Carrier
The U.S. Navy scrambled four fighter jets to intercept two Russian warplanes in waters off the Korean Peninsula.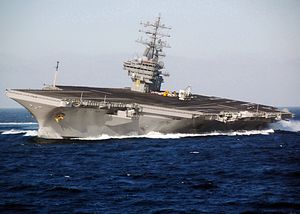 Two Tupolev Tu-142 aircraft flew within one nautical mile of the U.S. aircraft carrier USS Ronald Reagan, prompting the dispatch of four F/A-18 Super Hornets from the Reagan to intercept the Russian warplanes, AFP reports. The Reagan was sailing off the Korean Peninsula at the time of the incident.
The Tu-142 aircraft were flying at an altitude of 500 feet approximately one nautical mile away from the aircraft carrier, which was operating in international waters in the Sea of Japan as part of a joint U.S.-South Korean naval exercise.
A naval vessel escorting the Reagan attempted to contact the aircraft but did not receive a response. This led to the sending of the F/A-18 Super Hornets fighter jets from the Reagan's flight deck to intercept and escort the Tu-142s –"standard operating procedure," according to the U.S. Navy.
The Tupolev T-142 is a maritime reconnaissance and anti-submarine warfare aircraft. It is derived from the Tu-95, which, along with the Tu-160, constitutes the current backbone of Russia's long-range and strategic aviation.
A U.S. ship trailed the two Russian aircraft as they moved away from the 100,000-ton aircraft carrier. Other vessels present during the incident were the guided missile cruiser USS Chancellorsville and the guided-missile destroyers USS Mustin, USS Fitzgerald and USS Curtis Wilbur.
White House spokesman Josh Earnest called the incident "not a particularly threatening encounter," according to AFP. "It's standard operating procedure for U.S. planes to escort any aircraft that are flying anywhere in the vicinity of U.S. Navy ships," Davis added. "The interaction was characterized as safe."
The lack of communication from the T-142 aircraft can either be interpreted as a deliberate provocation or poor Russian aviation practice, since two-way radio contact is generally expected at such a close distance. "Even if we don't have flight operations ongoing, we are still very cognizant of what is going on in the airspace, within a good distance," said a U.S. 7th Fleet spokesperson quoted in Stars and Stripes.
The spokesperson emphasized that the presence of Russian warplanes in the Sea of Japan is not an issue per se. "We are advocates of any country being able to operate within international norms," Lieutenant Lauren Cole told Stars and Stripes this Thursday. "We do caveat that with the fact that all of these operations need to be conducted in accordance with the rights and regulations of other countries, and within a safe manner."
The nuclear-powered Nimitz-class aircraft carrier USS Ronald Reagan replaced the USS George Washington at Yokosuka Naval Base in Japan's Kanagawa Prefecture in October. It is currently the U.S. Navy's only forward-deployed aircraft carrier in the Asia-Pacific.