Water Security in Asia: Strong Infrastructure for Healthy Communities
Insights from Walter Wang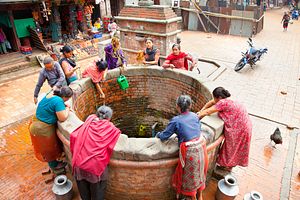 The Rebalance authors Mercy Kuo and Angie Tang regularly engage subject-matter experts, policy practitioners and strategic thinkers across the globe for their diverse insights into the U.S. rebalance to Asia.  This conversation with Walter Wang – Chairman and CEO of JM Eagle Inc., the world's largest plastic pipe manufacturer, and co-founder of the Walter and Shirley Wang Foundation, a U.S.-based philanthropy that supports U.S.-China relations, pediatric surgery for underprivileged children, and education – is the eighteenth in "The Rebalance Insight Series." 
JM Eagle's pipes deliver water across the globe, particularly in Sub-Saharan Africa, Southeast Asia and Central America, and its innovative water systems to support The Earth Institute's Millennium Village Project. Water security is a key component of U.S. national security. What are two major challenges facing the future of global water security and specifically in Asia?
Peace and security result when people can live comfortably without fear. They want to be able to feed their kids, have clean water, a roof over their heads. When these things are absent security becomes an issue.  The availability of clean water is a key to much of what people need for their security and livelihood, especially in the developing regions of Asia. It is needed for agriculture and food production, to prevent water borne diseases, to make day-to-day living cleaner and more enjoyable. That translates into healthy, secure communities.
In fact, the world has plenty of clean water. The challenge is to bring clean water to where people need it. JM Eagle makes a water conveyance product that is very light compared to ductile iron, steel or concrete. It's easier and less costly to install, it doesn't rust or corrode, and it will last 100 years or more. Our products are changing lives for the better around the world. We understand that we can play a crucial role in development of water infrastructure that contributes to peace and security in the region.
The U.S. rebalance to Asia seeks to build an integrated trade and investment community by promoting coherent regulatory standards, efficient supply chains, protection of the environment, intellectual property, innovation and the spread of green technology. For companies such as JM Eagle, does the rebalance help or hinder global economic competition?
The key here is for the business communities throughout Asia and the world to have set rules and to abide by them. That means not only strong manufacturing standards but also strong enforcement of the standards.
The rebalance to Asia will greatly help global competition if laws and standards for intellectual property, manufacturing and trade, which have a long and successful history in the U.S. and Europe, are adopted and enforced in growing Asian business communities. In the U.S. we have very strong standards for plastic pipe set by AWWA (American Water Works Association), NSF International and Underwriters Laboratories. Each JM Eagle plant is inspected on average 44 times a year in unannounced audits by these organizations. This levels the playing field and it is my hope that similar structures will take root and grow in Asia, at least in part as a result of the U.S. rebalance.
Infrastructure development is linked to water security and conservation. What is the long-term impact of China's Asian Infrastructure Investment Bank and New Silk Road initiative?
I think China's intent is to have a positive economic impact on economies around the world, and particularly developing economies that are geographically close to China, whether in Central Asia or in the maritime sphere. Clearly, infrastructure is a key component, perhaps the most important component. Some people are skeptical, but we have to assume that China will be successful with these initiatives. The United States shouldn't be threatened by this. The result will be positive for people of this vast region.
Currently, it takes four to six weeks for Chinese manufacturers to ship goods to Europe by sea. It will take two weeks by rail. That is more efficient and should decrease the cost of doing business, bring down the cost of goods. That's very important for a high-tech, fast-paced economy. President Xi Jinping wants to build infrastructure on every level. Obviously, this is a great opportunity for many industries, including the plastic pipe industry. If countries want to have a healthy economy and structure above ground, they cannot have an unhealthy infrastructure below ground. Plastic pipe will play an important role in this because it doesn't rust or corrode, and the end result is great reduction of secondary pollution.
Your philanthropic efforts in improving understanding and communication between the United States and China encompass higher education, AIDs initiatives, medicine, among other areas. Why is fostering people-to-people communication and empowering civil society so important to shaping China's future?
I believe very strongly that the powerful should help the weak and the rich should help the poor. A person should always try to do something that is good for others, not only for their own interests. These are our corporate values. The main goal is to make a positive contribution to people's lives and have a positive impact on communities for this generation and, we hope, for generations to come.
With the right goal and the right heart we can do much better in profit growth for the long term. This is our mind set and our core value. We have the right resources and the right people to make a difference, whether it is in higher education, AIDS initiatives, or potable water systems. As one example, we donated over 400 miles of pipe to eight African countries providing water to more than 300,000 people. Therefore, we need to make charity, philanthropy and giving back a high priority. We need to do it wisely and do it right. In my opinion, it is a must. 
What are ways in which the next U.S. president can improve communication and understanding between the United States and China?
My hope is that the next U.S. president develops personal relationships with China's leaders. President Ronald Reagan worked hard to develop a personal and professional rapport with Chairman Mikhail Gorbachev. The result was very positive change – the end of the Cold War and destruction of the Berlin Wall. The next U.S. president should spend more time in China to gain an understanding of the country and its people, and the Chinese leadership should also do the same in visiting the United States.  We all need to invest our time in order to develop more understanding of others.