New Taiwan Report Considers the China Threat
A recently released defense report warns of the rapid development of the PLA.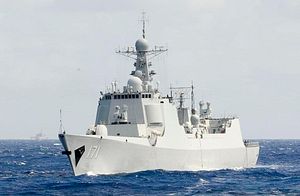 China's military expansion is still the biggest headache for Taiwan's national security, says a new defense report issued Tuesday by Taiwan's Ministry of National Defense.
The 204-page defense report, among other things, provides the domestic audience in Taiwan with a snapshot of current security threats. The report, the 13th of its kind, is a good reflection of Taiwan's national defense focus and concerns. It is often monitored closely by Asian security experts because of its analysis of the latest trends and direction of Chinese military and defense, which is little presented in defense white papers published by China's own defense ministry. The previous version was issued in 2013.
"Due to the increasing uncertainty of the global security environment, the environment Asia Pacific and Taiwan are facing is also becoming more and more complicated and severe, among which China's military threat is the top challenge," the latest report says.
The report spent a generous portion voicing concerns over the rapid advancement of the People's Liberation Army (PLA), increasing Chinese defense spending, "more than 1,000" short-to-mid-range ballistic and cruise missiles placed across the Taiwan Strait, "continuing targeted military exercises," as well as Beijing's persistent stance regarding the use of force on Taiwan.
The report added that "the strategic competition in the Asia Pacific between the United States and China, as well as escalating maritime territorial disputes over islands in East and South China Seas, also bring challenges to Taiwan's national security." Just this week, the People's Liberation Army Navy followed and warned a U.S. Navy destroyer that sailed within 12 miles of a Chinese-made artificial island in the South China Sea. Beijing saw the U.S. Navy's move as provocative and trouble-seeking while the Pentagon insisted its forces are free to operate in open international waters and will continue to do so.
It also came just months before Taiwan's general elections, where perceived Chinese threats are certain to be a top concern for voters.
Cross-strait relations have progressed over the years under the pro-Beijing Kuomintang Party, but China's heavy commitment to military development still sometimes reminds many inside Taiwan of Beijing's war talk two decades ago during the 1995-1996 Taiwan Strait crisis, when Chinese military held months-long live-fire exercises near Taiwan to warn the then-ruling Democratic Progressive Party against shifting away from the "One-China" policy.
Twenty years on, the report says China is still strengthening its "Taiwan-focus preparedness" at all fronts, aimed at "creating space for using force to invade Taiwan in the future." It cautioned that Chinese President Xi Jinping is using both soft and hard approaches to prepare to reclaim the island – such as including Taiwan under China's new national security legal guidelines and pushing cross-strait relations in order to "weaken Taiwanese people's sense of enemy and self."
Worryingly, the report says that the PLA has shown improvement in all aspects needed to take over Taiwan – including ground force mobilization, satellite surveillance, sea-air comprehensive war-fighting and nuclear counter-attacks, as well as electronic and cyber warfare.
The Second Artillery – the PLA's secretive strategic missile forces – plans to be completely capable of conducting sustained attacks on Taiwan by 2020, the report warns.
Many of the key PLA weapons listed is the report were displayed in early September's military parade in Beijing, celebrating China's victory in Second World War. But the report also went on to reveal what was not shown in the parade, such as the PLA's ability to infiltrate foreign cyber systems. In one case, the report says Chinese military hackers successfully tapped into a foreign target for some 1,700 days without being detected.
Facing such threats, Taiwan must accelerate the transformation of national defense, improve joint combat operation techniques, and develop sustainable war-fighting capabilities that are small but precise and strong, the report says.
The report also acknowledged Taiwan's other national security challenges, including shrinking defense spending and resources, natural and humanitarian disasters, and lack of available service members.