Australia Hoses Down South China Sea Angst
Turnbull shows his mettle.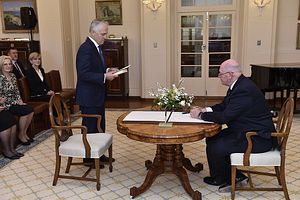 After his first grueling round of summits (G20, APEC, ASEAN Regional Forum), Australia's Prime Minister Malcolm Turnbull, in office for two months, returned this week to the capital. He made a national security statement to parliament in which he called for a calm, clear-eyed and calculated response to Islamic State. Several days later, in a wide-ranging interview on ABC TV, he hosed down more alarmist approaches to the South China Sea.
Turnbull picked up a cue from ABC host Leigh Sales in a long list to talk of the South China Sea. He struck a new note for Australia which ran as follows:
Yes there are issues between the United States and China over atoll building and island building in the South China Sea, as there is, in fact in some senses, greater issues, between China and the various countries that are – Philippines, Malaysia,  Vietnam, Indonesia and so forth that are the neighboring countries of the South China Sea.
He went on to suggest that these disputes are relatively minor compared with the bigger issues that all countries of the region face; and the points of difference with China were fewer than those revealed by the larger canvas of common interest. He said of the South China Sea:"But that's one issue, the overall, all of those countries have much more in common, their agendas are much more united that those single points, no matter how important of difference." He added an admonishment of those in Australia and the region for exaggerating the importance of the island disputes:
It's a mistake, if I may say so, to focus solely on the points of difference. Obviously it's, in a sense it's more interesting, it's more newsworthy but it fails to capture the remarkable degree of unanimity and common purpose in the global community.
Turnbull's tone can be interpreted against the background of a number of related developments. First, when chided publicly by U.S. President Barack Obama for allowing a Chinese company to lease wharves in Darwin with an invocation "next time let us know about it," Turnbull jocularly suggested later in public that Obama should read the Darwin newspaper and he would have known it was happening. Second, Turnbull was channeling the sentiment among some Asian countries at the summits that the United States had overstepped the mark in its bombast and military displays in the South China Sea.
Third, the Turnbull chill down of Australian policy on the South China Sea was matched by a complete backdown by Japan on its previous plans to join patrols of the South China Sea. According to  the Japan Times on November 23, Abe publicly affirmed that Japan will not join freedom of navigation operations led by the United States only days after telling Obama he would consider the move. Several governments apart from China have told Japan that its plan for naval operations in the South China Sea are unwelcome in the light of its history of invasion and occupation.
In fact, dig behind the headlines and it is clear that Australia is not the unquestioning junior partner in defense relations in the region that might have been suggested by its all too uncritical echoing of exaggerated and even false claims by the United States that China is a threat to commercial shipping in the South China Sea. In September 2015, Australia hosted a small number of Chinese and U.S. soldiers in a week-long tri-partite outback survival-style exercise for the second year running. And as reported on November 2 by The Diplomat, Australia was involved in joint exercises with the PLA Navy as the United States rhetoric about freedom of navigation operations peaked.
With Turnbull in charge, Australia will be less willing to echo hawkish U.S. sentiments about China. On November 24, Turnbull announced that Michael Thawley, Secretary of the Department of Prime Minister and Cabinet brought in by former Prime Minister Tony Abbott would be leaving his post and returning to the private sector. The departure in October from the post of Australian Ambassador in Washington of former Labor Party Defense Minister, Kim Beazley, a defense hawk by Australian standards, will allow a breath of fresh air and more independence for Australia from American rhetoric about the purported China threat. With the departure of the Secretary of the Department of Foreign Affairs and Trade, Peter Varghese, a career diplomat, also announced on November 24, the stage is set in Canberra for Turnbull to use these senior vacancies to impose his own stamp on foreign policy and on U.S. Australian defense relations with the United States. In foreign policy, Turnbull will be more like former Labor Party PM, Paul Keating, than any Liberal Party prime minister in the country's history.