On Taiwan Arms Sales, China's Bark May Be Worse Than Its Bite
Putting Beijing's response to the U.S. arms sale to Taiwan in some historical context.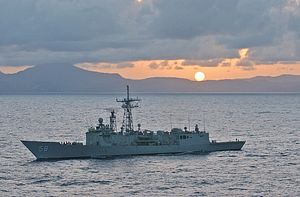 As The Diplomat reported yesterday, the Obama administration just notified Congress of a $1.83 billion arms sale package for Taiwan. The arms sale – headlined by two Perry-class frigates – had been expected for months and none of the content came as a surprise. However, Beijing, as usual denounced the arms sale as an act that "severely undermines China's sovereignty and security interests."
In addition to the usual diplomatic anger that follow such arms sales – warnings that it will harm U.S.-China ties, particularly military relations – Beijing made a new announcement. According to Xinhua, when Vice Foreign Minister Zheng Zeguang summoned Kaye Lee, the charge d'affaires at the U.S. embassy in Beijing, Zheng warned that "China has decided to take necessary measures, including imposing sanctions against the companies involved in the arms sale." The major companies represented in the arms deal are Raytheon and Lockheed Martin.
Asked to provide details on the sanctions Foreign Ministry spokesperson Hong Lei said, "The involvement of U.S. enterprises in the arms sale to Taiwan severely undermines China's sovereignty and security interests. The Chinese government and enterprises will not conduct cooperation or business with such enterprises."
Meanwhile, China's Ministry of National Defense warned that the sale will impact military-to-military relations between the United States and China. "The United States' wrongdoing of selling arms to Taiwan will inevitably harm China-U.S. military relations," spokesperson Yang Yujun said in a press release.
"We strongly urge the U.S. government to … cancel the announced arms sale to Taiwan, stop arms sales to Taiwan and cut U.S.-Taiwan military ties, thus preventing further damage to China-U.S. military ties and overall relations," Yang continued.
So we have two threatened response from China to the latest arms sale to Taiwan: sanctioning the U.S. firms involved and scaling back military relations. Neither of these threats are new – so let's take a look at how Beijing has delivered on its warnings in the past.
The first arms sale to Taiwan authorized by the Obama administration came in January 2010. Worth $6.4 billion, the deal included 113 PAC-3 missile defense missiles and 60 Black Hawk helicopters. China's response was more robust than normal – perhaps, as James Mann suggested in his book The Obamians, because Beijing believed it had a shot at ending U.S. arms sales to Taiwan once and for all under Barack Obama. Regardless, a Chinese vice foreign minister summoned then-U.S. Ambassador to China Jon Huntsman to issue a protest. Most relevant for today's context, Beijing also threatened to sanction the U.S. companies involved in the sale, and to cut off military exchanges with the United States.
So what became of those threats? In the short-term, China did seriously curtail military relations, shutting down military dialogues and exchanges for almost all of 2010. The most noticeable effect was Beijing denying then-Secretary of Defense Robert Gates permission to visit China after the Shangri-La Dialogue in Singapore. That led Gates to publicly chastise China in his speech at the Dialogue for breaking off military relations "over something that is, quite frankly, old news." Eventually, U.S.-China relations warmed again (thanks in part to the desire of both sides to make Hu Jintao's state visit to the United States in 2011 a success) and Gates got to visit China in January 2011.
Interestingly, the promised sanctions against U.S. firms (which, as is the case today, were always a vague concept) never came. That may be in part because two of the firms involved in the 2010 sale – Boeing and General Electric – have major commercial interests in China. Actually following through on sanctioning these companies would have been a serious escalation in an already-tense relationship.
In September 2011, the United States announced a $5.9 billion upgrade package for Taiwan's F-16A/B fighter jets, to a fairly muted reaction from Beijing. Once again, a vice foreign minister (this time Zhang Zhijun) summoned the U.S. ambassador (then Gary Locke) to lodge a protest. Zhang warned the sale would "inevitably" take a toll on the overall relationship, especially military ties. Yet, even though one Chinese military officer urged China to "take revenge" in an article for the People's Daily, Beijing didn't take major steps to retaliate for the sale. A few U.S.-China military contacts were postponed, but nothing on the scale of 2010's break.
Part of that, however, may have been related to timing – Beijing was unwilling to create a huge issue in U.S.-China relations only a few months before a heavily anticipated tour of the United States by then president-in-waiting Xi Jinping. Xi's February 2012 visit to the U.S. was seen as a display of his foreign policy prowess ahead of his actually assuming China's top leadership roles; Beijing needed the visit to go off smoothly. Meanwhile, Taiwanese President Ma Ying-jeou, who had spearheaded a warming of cross-strait relations during his first term, faced reelection in January 2012. China's leadership may have decided to cut Ma a break by not lashing out over the arms sale, in the hopes he would win reelection (and he did).
So, with that background, what should we make of this week's reaction from Beijing? First, it's interesting that China summoned the U.S. charge d'affaires, rather than Ambassador Max Baucus himself, to lodge its protest – that suggests a more moderate response. Military relations will likely suffer in the short term, but given the intense work both sides have put into institutionalizing those ties since 2011, a serious break a la 2010 would be a huge blow, and likely farther than Beijing wants to go for the smallest Taiwan arms sale yet of the Obama administration.
The proposed sanctions on U.S. companies are interesting, as it provides a new lever for Beijing to pull when responding to these arms sales. And despite what many observers dismiss as pro forma responses from China, it should be noted that U.S. arms sales to Taiwan remain the top issue of concern listed by Chinese military officials when discussing the relationship. But Beijing has made the sanctions threat before and not followed through – much as the Obama administration has yet to follow through on its threat to sanction Chinese companies profiting from cyber espionage. The threat alone remains a useful policy tool, and Beijing may again decide that warnings – rather than action – are enough.