Vanuatu: President Dissolves Parliament
The political crisis in the South Pacific nation comes to a head.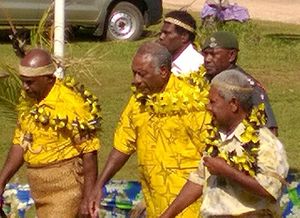 Just over eight months after Cyclone Pam devastated the South Pacific nation, and just as the United Nations Climate Change Conference gets underway in Paris, with the outcome of vital interest to Pacific nations, Vanuatu's president dissolved Parliament, after 14 of its members were convicted for bribery.
This had been coming for some time. Baldwin Lonsdale's decision came a month after the MPs were sent to prison, and then lost their appeals, and after a deadline for his government and its opposition to reach an amicable decision had passed. A fractious opposition critical of many issues have hamstrung any peacemaking, but some also think they speak for a people also fed up with lugubrious government pace, especially in regards to budget, provision of services, and even of handling of funds post-Cyclone Pam.
The MPs lost their appeals and were forced to leave parliament, giving the opposition a controlling majority of two-thirds. Lonsdale held out, against the advice of his Prime Minister Sato Kilman, but relented when no solution was forthcoming from an opposition that pushed for a recall of Parliament given their new majority. Had the opposition got their wish it would have been just the second time it had sat this whole year. The budget, too, has not yet been passed.
Though he has called it a last resort, Lonsdale also said it was necessary. There will be, he has said, a likelihood of more cyclones this season, compounded by climate change; drought conditions have not helped, either. An already ineffective government made worse by political instability will not help matters, even if dissolution and the snap call for an election are a last resort to end "continued political instability."
This is not the first time we have reported on this. In a country of 250,000, 14 members of Parliament done for bribery is a lot, by anyone's parlance, and the saga had some particular high points. As we noted,  "According to Vanuatu's constitution, the speaker of parliament assumes all presidential powers and duties while the president is abroad, including the ability to pardon anyone convicted of a crime. Vanuatu President Baldwin Lonsdale was on a state visit to neighboring Samoa until yesterday. In a display of political brazenness, if not subtlety, that Frank Underwood would be proud of, Pipite promptly pardoned himself and all of the 13 other convicted lawmakers in the last hour of before the president's return." This went over worse with the electorate than was possibly expected.
Former advisor to the government Siobhan McDonnell told Radio New Zealand "This government is now in caretaker mode because so many cabinet ministers and so many members of parliament are in jail and lost their appeal on Friday. So there is already reports of certain services not being funded but really it was about putting everything in place for next year by making sure that current servicing continues into 2016." However, she also noted that this could be a chance for a cleanup and that judicial reform in the small nation was looking more hopeful. "At the grassroots in Vanuatu there are many more people who are now more hopeful than they have been and there is a sense that it might not be business as usual in terms of the amount of money that was changing hands amongst members of parliament."