US Policy Toward North Korea After the 2016 Nuclear Test: A Conversation With Joel Wit
Joel Wit, a U.S. expert with over 20 years of nonproliferation experience, discusses North Korea's recent nuclear test.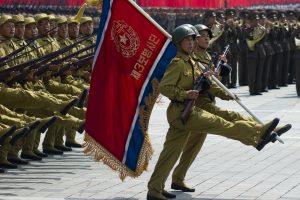 In this week's podcast for The Diplomat, U.S.-based editors Ankit Panda and Shannon Tiezzi speak to Joel Wit about North Korea's recent nuclear test and the future of U.S. nonproliferation policy on the Korean peninsula. The conversation additionally address U.S. diplomacy with China on North Korea. Wit is a senior fellow at the U.S.-Korea Institute at SAIS, Johns Hopkins University, and is the founder/editor of 38 North (www.38north.org). An internationally recognized expert on Northeast Asian security issues and non-proliferation, Wit has 25 years of experience in the U.S. State Department and the Washington think-tank arena.
Wit previously appeared on the podcast to discuss the trajectory of North Korea nuclear program (episode available here).
Click the arrow to the right to listen. If you're an iOS or Mac user, you can also subscribe to The Diplomat's Asia Geopolitics podcast on iTunes here. If you use Android, you can subscribe on TuneIn here. If you like the podcast and have suggestions for content, please leave a review and rating on iTunes and TuneIn.