US, China Near Agreement on North Korean Sanctions
Nearly two months after Pyongyang's nuclear test, UN Security Council is finally close to agreeing on a response.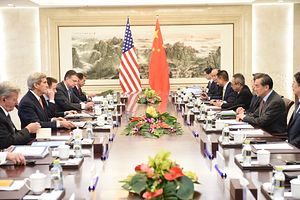 After weeks of talks, the United States and China have reached agreement on a draft resolution that would sanction North Korea for its recent nuclear and rocket tests according to media reports. A vote on the United Nations Security Council resolution could come as early as this weekend.
North Korea conducted its fourth nuclear test on January 6; Washington and Beijing have been working on hammering out a UNSC resolution ever since. However, China reportedly was not willing to accept the sort of stringent sanctions the United States called for, and the talks dragged on for over a month with little progress. However, when North Korea carried out a rocket launch (considered to double as a test of ballistic missile technology) on February 7, it appears to have lent extra impetus to the negotiations. Shortly after that, Chinese officials began talking openly about their acceptance of UNSC resolution penalizing North Korea.
Chinese Foreign Minister Wang Yi visited the United States this week, with the lingering debate over UN sanctions high on the agenda for both sides. During a joint press conference with his U.S. counterpart, both Wang and Secretary of State John Kerry mentioned "significant" progress on a UN Security Council resolution responding to North Korea's violation of previous UNSC resolutions.
On Wednesday, Wang met with U.S. National Security Advisor Susan Rice. A statement on that meeting from the National Security Council said that Rice and Wang "agreed on the importance of a strong and united international response to North Korea's provocations, including through a UN Security Council Resolution that goes beyond previous resolutions."
According to South Korea's Yonhap News, the Wang-Rice meeting (which Obama joined briefly as well, according to the NSC) was the final step in cementing a draft resolution mutually acceptable to both Washington and Beijing. Yonhap, citing anonymous sources, reported that the resolution would sanction around 30 individuals or entities, including North Korea's General Reconnaissance Bureau, Ministry of Atomic Energy Industry, and National Aerospace Development Administration.
The United States had pushed for strong sanctions measures, from limiting oil exports to North Korea to restricting its access to foreign ports and its ability to export coal and other natural resources. China objected to those ideas, arguing that tight sanctions would ultimately only hurt the North Korean people rather than the leadership.
Chinese Foreign Ministry spokesperson Hua Chunying declined to directly confirm that the United States and China have agreed on a draft resolution, but told journalists that "we are looking forward to an agreement in the near future." She added, "We hope and believe that the new resolution can effectively limit further progress of the DPRK's nuclear and missile program."
However, Hua also reiterated China's position that sanctions will not provide "a fundamental solution to the Korean nuclear issue." She urged all parties to return to negotiations, with China's proposal being a "parallel track" of negotiations on denuclearization and a final peace agreement to formally end the Korean War.
The current debate over a UNSC response to a North Korean nuclear test has already gone on far longer than ever before. But the delayed response fits a general pattern that each time, it's been a little more difficult – and taken a little longer – to reach a consensus on the Security Council. The UNSC passed sanctions in response to North Korea's first nuclear test within five days. It took a little over two weeks to pass sanctions after the second nuclear test and just under a month after the third. This time, we're closing in on two months since the January 6 test. Each time North Korea violates existing UNSC resolutions the international community – and particularly the United States and China – become more divided on how best to respond, something Kim Jong-un is sure to have noticed.