Xi Jinping Lays Down the Law for China's Top Military News Outlet
Among his directives: "The PLA Daily must continue to take 'Party' as its surname."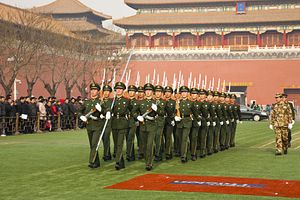 During a visit to the People's Liberation Army (PLA) Daily last year on Christmas Day, Chinese President and Communist Party General Secretary Xi Jinping laid down the law for China's top military news outlet.
His official speech was not immediately made public, but thanks to an article published last month in the Party's Hongqi Wengao (Red Flag Manuscript), we now have a window into Xi's thinking on media affairs. Among his directives: "The PLA Daily must continue to take 'Party' as its surname." He explains that taking "Party" as a surname means "a reaffirmation of the basic principle of 'the political leadership running the press.'"
This may sound strange, but we should note that in Chinese surnames come first. What Xi is saying is that the newspaper should be the "Party PLA Daily." We can also extend this to the military itself, meaning that the Chinese People's Liberation Army (which includes all of China's military forces) is in fact the "Party Army," a tried and true principle among China watchers.
The character for "party" appears to have its origins as a family name in the Spring and Autumn period, although it is quite uncommon today. At least as late as 2006, however, orphanages would actually assign the surnames 'Party' and 'Nation' to their wards based on gender (see the Xinhua story here). Obviously the orphanages wanted to show their loyalty, but the gesture also carried the idea of China as one great family… under the Party naturally.
As for political control of the media, Xi insisted that all media "show their Party colors clearly in the new environment." The tasks of the PLA Daily and other media in this new environment – especially the internet – are to: combine doctrine and fact; have confidence in Chinese socialist values and oppose foreign ways; strengthen China's right to speak and criticize erroneous thought; and advance doctrinal innovation to develop 21st century Chinese Marxism.
The first point is ironic in that the mixture of punditry and news that Americans decry in Fox News and MSNBC is for China an advantage: controlling the message as well as the interpretation leaves little room for unorthodox thought.
The second point encapsulates China's recent anti-Western values campaign, a guard against the perceived threats of democracy and other foreign values.
Third, Xi's "right to speak" does not mean freedom of expression, but rather dominating media bandwidth with the Party's message, in particular by discrediting opposing messages.
The fourth point encourages a certain amount of creativity, so long as it strengthens China's current form of governance. One way to see this is as a "make it work moment": the Party isn't going away, so China will just have to make it work.
The bottom line is that whatever leeway the PLA Daily and other official media organs felt they had to report outside the party line is now gone. Erstwhile mavericks are probably in for a drubbing.
Such strenuous calls for loyalty are likely aimed at ensuring PLA loyalty through major reforms and a persistent anti-corruption campaign. The PLA is a pillar of Chinese society and the ultimate guarantor of Party rule. Potentially unpopular reforms such as the ouster of key officers and large personnel cuts may raise questions about loyalty and require a shoring up of morale. The Party must make sure both its media and its gun are in line.