Vietnam's 12th Party Congress
A tale of two goals: maintaining a monopoly of power and sustaining economic growth.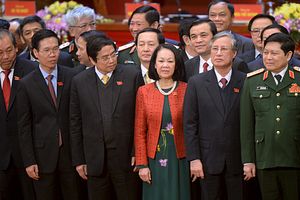 Vietnam's quinquennial Party Congress concluded on January 28, and, even though the most competitive leadership contest the country has seen played out behind the red curtain, brought to light the Communist Party's dirty laundry. While most outside analysts viewed the Congress as a referendum on Vietnam's future economic direction, it was far more about reasserting the primacy of the party. And the results reflect the two contradictory goals of the Vietnamese Communist Party (VCP): to maintain its monopoly of power and to continue to grow the economy.
By Vietnamese standards, there was high political drama as conservatives outmaneuvered reformist Prime Minister Nguyễn Tấn Dũng, the leading candidate to become the party's General Secretary. Despite an attempt by supporters from the floor of the congress, Dũng could only muster 41 percent support. In the end, incumbent General Secretary, 71-year-old Nguyễn Phú Trọng, won reelection with 80 percent of the votes of the 1,510 delegates.
The Politburo
The focus of most media analysis has been on the conservatives' victory over Prime Minister Nguyễn Tấn Dũng. Dũng clearly had made enemies. Party conservatives distrusted his economic reform program, push for faster privatization of state-owned enterprises, and calls for deepened ties with the West in general, and the United States in particular. Dũng actively campaigned for the post, and many feared that he was amassing too much power in a system that prides itself on collective leadership. Several people told me that the party feared the emergence of a Xi Jinping.