Christianity in Mongolia
A look at how a foreign faith is adapting to Mongolian culture.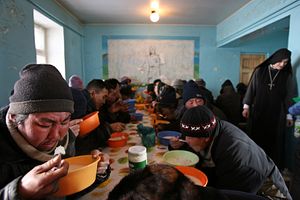 Tsogoo paces when he talks, like the American preachers on satellite television. Tonight he tells the men about King David and the importance of daily payer. "David was a powerful, intelligent man," says Tsogoo. "But he prayed every day. He knew he could not live well without God's guidance." He enjoins the men to pray whenever they must make a decision, no matter how important or trivial.
The Khovd City Men's Fellowship does not meet at six every Thursday night just to listen to Tsogoo. They meet to discuss spiritual matters in the company of other men they trust. The meetings take place in a small yurt, or ger, behind a wooden house on the edge of Khovd City's sprawling ger district. There are no lamps to illuminate the ger and only a small stove to keep them warm in the winter. Around the stove are rickety orange benches with no backs. When someone begins to speak, the others lean in to listen.
They are usually a small group, rarely more than ten. Each meeting has its share of new faces. The visitors come for many different reasons. Some are curious; they want to know the meaning and purpose of this "foreign" religion taking up residence in their province. Others are desperate, suffering from unemployment, alcoholism, illness or all three, searching for a path or a leader to guide them to peace and recovery.
According to Mongolia's 2010 National Census, 41,117 Mongolians — 2.1 percent of the country's population — adhere to Christianity, usually of the Protestant variety. Although Nestorian Christianity existed in the Mongol Empire, where Christians sat in the emperor's court, Christianity did not truly penetrate the Mongolian heartland until the early 1990s. After the fall of the USSR, missionaries of various denominations began to enter the former Soviet satellite state in search of potential converts.
While one might expect Christianity to grow primarily in Ulaanbaatar, Christian communities now exist all over Mongolia. Khovd City, the capital of Mongolia's remote Khovd province, does not seem a likely base for a nascent Christian community. Home to approximately 28,000 people, Khovd City is located in Mongolia's far west, about a day's drive from the almost equally remote Chinese province of Xinjiang.
Tsogoo, now a physics professor at Khovd State University, was not born into a family of Christians or a community of believers. He discovered Christianity as a young man, when one of his friends returned from Ulaanbaatar with a strange book and a new faith. His friend encouraged him to read the Bible and he soon became fascinated by its teachings. A few years later, Tsogoo declared himself a Christian and committed himself to acquainting his fellows with the Bible and its doctrines. The Men's Fellowship is a means of doing so.
As a Fulbright English teacher at Khovd State University, my first encounters with Western Mongolia's Christian minority began when I met Robert Keroac in the autumn of 2014. Keroac is one of the region's small crop of long-term expatriates and an active member of the Khovd's tiny Christian population.
Keroac first arrived in Mongolia in 1998, convinced that God was calling him to work there. While living in Atlanta during the 1996 Olympics, Keroac met and befriended a group of Mongolian athletes. "Mongolia would not leave my consciousness after that," he says. After two years of prayer, Keroac finally resolved to visit Mongolia on a one-month tourist visa. In 1999 Keroac decided to remain in Mongolia permanently.
After spending a year learning Mongolian in Ulaanbaatar with his wife Hazel, Keroac began touring the country in the company of his language teacher. After visiting eight provinces and 20 villages, Keroac and his wife resolved to move to Zereg soum, or district, in Khovd province.
"We were asking God what we should do," Keroac told me one afternoon in his Khovd City ger. "We got to this little village 100 miles south of Khovd City, Zereg, there the village leadership gave us a party and an oil painting and… immediately invited us to live there. We thought that might just be our answer to prayer."
Keroac and Hazel would spend the next ten years working in Zereg as English teachers. In their spare time, they strove to "live the Gospel and teach interested parties about the Bible."
Keroac and Hazel soon discovered they were not the only Christians to inhabit the region. "Various evangelical groups had been coming to do short-term work since 1993 for between two weeks or three months," says Keroac. "They would travel around and distribute literature, most of which ended up as rolling paper for tobacco or in fireplaces."
Khovd's first denominational churches were established in 2003 and 2005. Norwegian missionaries founded the first of these, the Norwegian Lutheran Mission, in 2003. In 2005, Korean Baptists opened Khovd's first and only Baptist Church. The goal of these groups, says Keroac, was "to set up churches on indigenous, sustainable principles."
The Korean Baptists, for instance, began their mission by sending short-term teams to Khovd in 2002 and 2003. "They would go and work in an area see if they could find people who were interested and leave them with Bibles and Bible study material," says Keroac. Once the Korean teams found ten people with a serious interest in Bible study, they sent a teacher to live in Khovd with the goal of eventually establishing a church.
When the Keroacs finally left Zereg and moved to Khovd City in 2011, they found eight Christian churches. "My wife and I visited each church in Khovd and introduced ourselves," says Keroac:
"It was in the summer, which is when the numbers are the lowest. We saw an average of 15–20 people in each church. In winter, my own church averages something like 30. Some days there might be 40 or more. It's easy to say that we saw probably 120 people in churches and they were the diehards."
Today, they belong to Khovd's Uguumur Hair, or "Abundant Love" church, where Keroac is a member of the leadership council. However, Keroac believes the council's existence does not suggest the church adheres to a rigid hierarchy. "There's no sharp divisions of labor," says Keroac. "Everybody pitches in. They recognize that anyone who professes to believe in Jesus will necessarily pull their weight and look for things to do. The leadership council tends to have people who have been Christians for at least five years. There's no one pastor. Several men share the responsibility of preaching the major addresses. Friday night Bible studies are shared between men and women."
Unlike the Norwegian Lutheran Mission and the Korean Baptist Church, the other six of Khovd's churches are nondenominational and administered by Mongolians. Two of the Mongolian churches emphasize the importance of "spiritual gifts" such as prophecy, speaking in tongues, healing, and the discernment of spirits. While the other churches accept these believers as legitimate Christians, the validity and importance of "spiritual gifts" remains up for debate.
Like Uguumur Hair, each of Khovd's eight churches elects a leadership council to represent its members. These leadership councils meet once a month to share information and discuss potential joint projects.
Last year, the churches organized a joint charity program with the approval of the city government. Once a month, each church would work with its local district governor to collect donations. They collected two kinds of donations: in kind and cash. With the cash they bought food and candy for children. They also bought warm clothing, children's toys, and good used furniture.
Tsogoo's Men's Fellowship is another project that unites Christians from Khovd's different churches. When he launched the Men's Fellowship, Tsogoo wanted to create an opportunity for men to meet and discuss their lives without depending on alcohol to speak frankly. In a country where one in five men binge-drinks on a weekly basis, few Mongolian families remain unaffected by the devastating impact of alcoholism.
When Tsogoo launched the Men's Fellowship in 2012, it had only three members. It was only after a year of weekly meetings that he managed to draw other men to the Fellowship. Many of the men who now regularly attend the Fellowship meetings are or were once alcoholics. Not only do they drink to excess at least three times a week, many are drunk at work or in other situations where they might pose a serious danger to themselves and others.
Chinbat, a former herder, is one of the Men's Fellowship's most regular attendees. He became interested in Christianity after he fell off of his camel, breaking his back and confining himself to a wheelchair. Unable to work, Chinbat receives a stipend from his church. Now, he uses the Men's Fellowship as a forum to help young men avoid making the same mistakes that cost him his mobility and independence.
Alcoholism and a man's responsibility to his fellows are constant themes among Khovd's Christians. At each of Khovd's eight churches, women continue to play a major role in the leadership councils. Men, according to Keroac and Tsogoo, have been reticent to take on leadership roles in the churches until recently. This strikes me as peculiar; while I have met many female Christians in Khovd, I have yet to meet one who admits to having a leadership role in her church.
In any case, it is clear that the men take inordinate pride in organizing events and activities. On April 16, 2015, I attended a Men's Fellowship meeting during which the men present happily recounted the success of a Christian-themed concert. Around 150 people attended this concert, which, according to those in attendance at the Men's Fellowship meeting, was entirely organized by men.
When I asked Keroac about this concert, he confirmed that concert had in fact been led and organized by the men of Khovd's Christian churches. "In fact," he continued, "when I went, women were coming up to me and saying how great it was the men were finally taking charge of something."
Whatever success Khovd's Christian churches may have with regard to combating alcoholism and motivating men to take charge of their lives, not all of Khovd's residents see them as a positive force.
Purevsuren, an English instructor at Khovd University, briefly attended some of Khovd's churches at their inception, when his then-girlfriend was exploring Christianity. Today, Purevsuren views Mongolian Christianity with a skeptical eye.
"Yes, churches can do good things," he says. "They teach right attitudes. Some alcoholics go and stop drinking. But some people also go because they want something from the church. They don't really believe in God. We also worry about brainwashing. We cannot always know what is going on inside those churches."
Purevsuren is the product of a secular society. Although he did not experience the bans on religious practice maintained by the communist Mongolian People's Republic, he grew up in the 1990s, when the constitution of a newly democratic Mongolia vowed to protect religious freedom and practice while limiting proselytism.
As a firm believer in the separation of church and state and the importance of keeping religion as a secondary force in the lives of individuals — behind citizenship and Mongolian culture, that is — Purevsuren does not believe that religious diversity will always be positive.
"Now it is okay because we are in the middle time," he explains. "These religions are not too big. I am afraid one day maybe they become very big and there will be conflict."
Whether or not these fears are justified, Mongolian Christianity's schizophrenic nature continues to perplex. Neither entirely foreign nor native, it may one day be as Mongolian as the Men's Fellowship's austere ger.
Martin de Bourmont is a freelance writer, translator, and graduate student based in Paris.