Blue Star Over Patiala
With India's paramilitary in Amritsar for the 32nd anniversary of Operation Blue Star, survivors 200 km away challenge the prevailing narrative.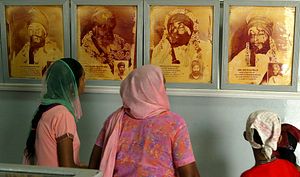 As they drop their children off at schools, clock into factories, perform surgeries, drive taxis, and teach classes, many Sikhs around the world ride a wave of mixed sensations every first week of June: parents grow quieter and the children of 1984 will again battle between saying nothing and asking too much. Meanwhile, news about Indian paramilitary troops marching into Amritsar, Punjab, home to the golden-domed Darbar Sahib, accompanies the handful of usual political suspects calling for a shutdown of Amritsar to mark the black anniversary of Operation Blue Star.
Once upon a time, per the government version, extremism was being promoted by an uneducated but charismatic ideologue, Jarnail Singh Bhindranwale, who misguided some Sikhs, making military intervention necessary in June 1984. The world has learnt since then, including through declassified British documents, that the Indian Army's attack on Punjab resulted from long pre-planning rather than exigency and was centered at the heart of Sikhdom, Darbar Sahib in Amritsar, where Bhindranwale and his men put up a stiff fight against the Army for days. Through censorship and fear psychosis, the accompanying murders of thousands of civilians by their own government remains shrouded, known only by the Army code-name for the operation, "Blue Star."
As 100,000 Army men sealed Punjab by June 1, 1984, worshipers and visitors were trapped not only in Darbar Sahib, but also in other gurudwaras (prayer centers and community centers) hundreds of kilometers away from Bhindranwale — against whom there was no arrest warrant or legal case at the time.
Over three decades after the deadly events, I sat listening to a man, who reminded me about the sights and smells I imagined as a child whenever I heard the sanitized term "Blue Star":
"You know how when a turban is washed, and then you wring it out, and water splatters out, just think about that…but with blood. So much blood. All these bloody turbans. Blood everywhere…we could not even estimate how many bodies this had come from. Because there were no bodies there, just the blood….and the loosened soil below had porously retained so much blood."
With a team of volunteers from the 1984 Living History Project, recording testimonies and memories of the watershed year, here I was listening to a man I had never met recount the macabre sights and smells from the premises of Dukh Nivaran (meaning "Eradictor of Suffering"). His house had been 250-350 meters from the boundary wall of Dukh Nivaran Gurudwara in Patiala, he said.
My father's relative's home in Patiala had been farther away from the gurudwara. He lived to tell the story of witnessing, from his rooftop, the Army move into the city. He recounted hearing three to four loud explosions then continuous firing for many hours, seeing parts of the gurudwara lit up in flames, and then, he said, hearing a persistent growl, like that of a large, wounded animal before it dies. Perhaps thankfully, rather than visualizing the bullet-ridden bodies of trapped pilgrims who had slept the night before on the cooler marble floor of Dukh Nivaran Sahib in the sweltering Punjabi June heat, my child's mind had imagined only a monstrous howl, which my relative's testimony re-awoke.
For many of those who saw it first-hand, the monstrosity was overwhelming. Jadish Kaur, the principal of a Nursing College in 1984, explained how her husband came back home after a week and remained "mentally tortured" by what he had seen happen in Patiala. They both soon quit their government jobs, and migrated to the United States. It was only years later that their children could join them and the family was reunited.
"Darbar Sahib was one…but what of the other 37 gurudwaras? It means this attack was in fact to destroy all Sikh morale," she summarizes.
There remain varying estimates of the total number of other gurudwaras attacked in north India in June 1984: 41 (Reduced to Ashes), 75 (Politics of Genocide), 38 (The Guardian). The Indian government's official White Paper, released hurriedly after June 1984, divulges 42 other identified gurudwaras. The casualties at Dukh Nivaran, just one of these many, were recorded at 257 by Justice Tiwana. Tiwana was appointed by the Punjab government in 1985 to investigate the fate of various Sikh boys and men picked up on the immediate heels of Operation Blue Star and tortured in detention at Ladda Kothi, southwest of Patiala, just one of  many notorious jails.
Growing up, we had heard, including from doctors in Rajindra Hospital, Patiala, the fate of those killed during the attack. Our relative had made his way, through back roads, to the home of friends who lived right across the gurudwara and who had a young child forced to go without food or milk for days. As he handed a small drum of milk to the petrified family, he heard stories about the lorries they had been counting, each laden with dead and almost dead bodies before wobbling their way out of the city limits.
Years later, I listen to Manjit Kaur's testimony on YouTube. She speaks of the reddened earth in the Patiala gurudwara, and later the overwhelming smell the locals inhaled, coming from the village of Badoongar. "The smell gave us the idea of what was really going on…what was really going on was the mass burning of the bodies," She recounts. The dead of Patiala were whisked away, just like the bodies from Amritsar were recorded being carted away in garbage trucks to be disposed of through quiet mass cremations. They left the earth red in their trace.
Says the eyewitness who as a boy counted bloody turbans: "[The] Indian mass population doesn't know this… they didn't let this come out at all…  If anyone else from Patiala listening to this can come forward, they too can add a wall to this foundation, so we can build toward the facts."
Instead of accounting or remembrance, what Punjab sees again this June is reporting on shrill political maneuvering in Amritsar, under the hawk-eyed watch of the central government troops. Once again, we see a violence-centric, selective telling of the Punjab story. This telling does little to amplify the voices of ordinary citizens, or to diminish antagonisms, or respond to the prevailing intolerance that prevents any human rights remedies for the wrongs committed under the guise of Blue Star.
Mallika Kaur is a lawyer and writer who focuses on gender and minority issues in the U.S. and South Asia. She has a JD from the UC Berkeley School of Law, where she is a Lecturer, and MPP from Harvard Kennedy School of Government.