Enough Air Power? Singapore Drops the F-35 Stealth Fighter
Singapore has put on hold an order for F-35B stealth combat aircraft.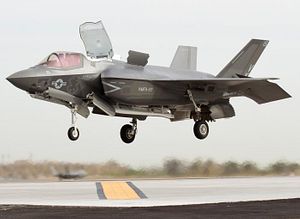 Singapore is putting on hold plans to procure up to 12 Lockheed-Martin supersonic fifth-generation F-35B stealth multirole fighter jets for the Republic of Singapore Air Force (RSAF), according to the Pentagon's F-35 program office, Bloomberg News reports.
Singapore's Permanent Secretary for Defense Development, Ng Chee Kern, purportedly already informed the U.S. Department of Defense in the middle of June about the city state's decision to postpone the acquisition of four F-35B fighter jets by 2022. (A tentative agreement included an option to buy an additional eight aircraft.)
However, U.S. President Barack Obama was apparently unaware of the mid-June decision taken by the city state. "We welcome Singapore's interest in purchasing the F-35 aircraft," he said last week at a White House press conference with Singapore's Prime Minister Lee Hsien Loong.
In 2015, Singapore expressed interest in the F-35B variant, the aircraft's most complex model designed for use by the United States Marine Corps. "The F-35B is capable of vertical or short takeoffs and vertical landings without requiring a catapult launcher, thanks to a lift fan and a directed thruster," I noted elsewhere (See: "Finally! US Marine Corps Declares F-35B Operational").
Singapore joined the F-35 program in 2003 as a so-called Security Cooperation Participant, which allowed the defense ministry to explore configurations and modifications to the aircraft to meet the city state's specific operational requirements. Only in 2014 did Singapore dispatch a "letter of request"—the first official step in Pentagon's Foreign Military Sales (FMS) process.
The city state has not revealed why it decided to postpone the procurement and put the contract on hold. According to Bloomberg News, an emailed statement by the Singapore defense ministry noted that "as a small country with no strategic depth, Singapore will always need superior air capabilities to protect its interests and borders." Furthermore, quoting from a 2013 statement by the country's defense minister, "our current fleet of fighter aircraft are adequate for our defense needs and the F-35 is still under evaluation."
Indeed, Singapore may have adequate air power for the time being to deter aggressors. From 2010 to 2014, Singapore received 24 F-15SG combat aircraft from the United States. It is also in the process of upgrading its fleet of 63 F-16C/D/D+ fighter jets. As The Diplomat already reported in 2013:
With a relatively young fleet of advanced F-15 and F-16 multi-role fighters already in its current fighter inventory, Singapore's defense establishment will likely want to see several aspects of the JSF program mature before committing to what will be one of the most, if not the most, costly military acquisition programs in Singapore's history.
Among many defense analysts, Singapore's possible near-term acquisition of F-35B combat aircraft was always seen as a long shot.