Hong Kong Electoral Commission Shutters Independence Parties
Two candidates are disqualified from competing in upcoming Legislative Council elections.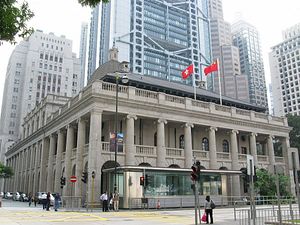 Hong Kong's Electoral Affairs Commission has rejected a newly formed political party's application to run in the city's upcoming Legislative Council election. Chan Ho-tin, the convener of the Hong Kong National Party, said he received an email from the Commission on Saturday advising that the party's application to run in the New Territories West had been "invalidated." No reason was given in the letter from the electoral body.
The Hong Kong National Party has been described as a radical party for its independence agenda. It is part of a number of new parties calling for the secession of Hong Kong from Mainland China following the 2014 Umbrella Movement, which called for true universal suffrage for the city.
It is believed that the reason for the rejection is due to Chan's refusal to sign a recently introduced declaration introduced by the Electoral Affairs Commission that states Hong Kong is an inalienable part of China.  This could be a potential blow to the other pro-independence parties vying for Legislative Council seats in the September 4 elections to be held across Hong Kong.
The declaration form has been criticized as censorship, and has been challenged in court by three pro self-determination candidates.
On Sunday, July 31, a second candidate, Yeung Ke-cheong of the Democratic Progressive Party of Hong Kong, was disqualified by the electoral commission on the same grounds.
"I fully understand such a move does not comply with the requirement… But I think the relevant legal clauses have violated basic human rights and freedom of speech … On this basis I will launch a judicial review," Yeung wrote in a statement.
Legal academic and the founder of the Occupy Central movement, which led to the Umbrella Movement, Benny Tai, told the South China Morning Post that there was nothing in the Basic Law that allows the government to ban anyone from elections based on their political opinions. "I do not think the returning officer has any power to screen candidates on the basis of their political opinion," Tai said.
A number of new parties have arisen since 2014 calling for either total secession from China or at least self-determination. Among the four main parties are the Hong Kong National Party and Hong Kong Indigenous, both of which call for secession. Hong Kong Indigenous' Edward Leung Tin-kei, lost a February by-election by scoring a surprisingly high 16 percent of votes. The other two parties, Demosisto and Youngspiration, are both calling for self-determination after the 50 year "One Country, Two Systems" grace period. The existing far left parties include the League of Social Democrats, People Power, and the NeoDemocrats.
The Electoral Affairs Commission's new declaration form asked candidates to pledge to uphold article provisions 1, 12, and 159(4) to Hong Kong's Basic Law: That Hong Kong is an inalienable part of China; that Hong Kong shall enjoy a high degree of autonomy and come directly under the central government; and that no amendment to the Basic Law shall contravene the established basic policies of China regarding Hong Kong respectively.
It has been challenged by two Legislative Council hopefuls: Hong Kong Indigenous' Leung, who also said that he was only given 24 hours to respond, and Avery Ng from the League of Social Democrats. Another Hong Kong resident, Kwok Cheuk-kin, has also lodged a legal challenge.
Ng said that although the League of Social Democrats did not necessarily condone the new parties' sentiments or methods, it did not mean that they would ignore injustice on political injustices, according to Hong Kong Free Press. Kwok said that the new requirements could deprive him of the right to choose a candidate who would not sign the declaration.
The Hong Kong National Party said that the recent events would not deter them from further advocating for Hong Kong independence. The party remains defiant, stating on its Facebook page: "The National Party is honored to become the first party to be banned from joining a democratic election by the government due to political difference."