Indian Parliament Passes Highly Anticipated Goods and Services Tax Bill
The long-awaited bill finally passes after a political compromise is reached.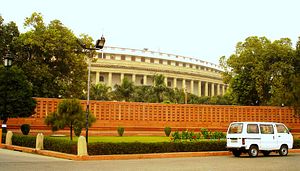 On Wednesday evening, the Indian parliament passed the highly anticipated Goods and Services Tax bill. The bill will simplify and streamline India's tax system, putting in place a national value-added tax. The GST bill will result in a constitutional amendment and represents the most significant change to India's tax laws since the country's independence in 1947.
The Lok Sabha, the lower house of India's bicameral parliament where the ruling Bharatiya Janata Party (BJP) has a strong majority, voted to pass the bill in May. The bill had come across difficulties in the Rajya Sabha, the upper house, where the GST proposal was bogged down by the opposition. Because the GST bill included a constitutional amendment, it required a two-thirds majority in both houses to pass.
In recent months, leading up to the ongoing Monsoon session of Parliament, India's opposition Congress Party managed to win some concessions from the BJP in the GST. With the support of the Congress, the bill finally cleared the upper house. In Wednesday's voting, the bill, known officially as the Constitution (122nd Amendment) (GST) Bill, 2014, was passed with 203 votes in favor and none against. The All India Anna Dravida Munnetra Kazhagam, a regional party based in the southern Indian state of Tamil Nadu, staged a walkout before voting, refusing to support the bill.
The adoption of a GST in India has been long coming, with the proposal initially having been mooted over 15 years ago. For Prime Minister Narendra Modi's government, the GST success will go down positively with international investors eager to see India's tax regime simplified, leading to an India-wide common market without cascading taxes across state and central governments.
The Modi government is reportedly looking to operationalize the GST by April 2017, which will mark the start of India's next fiscal year. Between Wednesday's passage of the bill and April 2017, the central government, led by Finance Minister Arun Jaitley, will have to ensure that the Indian states that need to ratify the bill do so. Following ratification of the bill by the necessary states, India's parliament will also need to detail the structure of the tax.