Tarin Kot: The City that Launched Karzai Under Threat of Collapse
The collapse of the provincial capital would deal a significant blow to the Afghan government.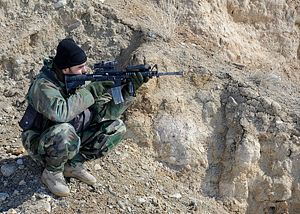 Another provincial capital is under siege by Taliban forces in Urzugan province. Tarin Kot, a city of over 70,000 has been surrounded by the resurgent militant group. This comes at the heels of Taliban strikes at Lashkar Gah and Kunduz city, though the cities remain under security force control, the situation still remains tenuous
According to media outlets Taliban forces are within a few kilometers of the city, "[The militants] are in some areas as close as one kilometre and in some, five kilometres to the main city," Uruzgan security chief Abdul Qawi said.
At least 6 security force personnel and 44 Taliban have been killed in clashes that have stretched the last several days. "The Taliban have suffered heavy casualties in the clashes and the military operation is still ongoing to clear the area of insurgents," spokesman for the governor, Dost Mohammad Nayab said.
The beleaguered forces have been fighting for several days with limited supplies and ammunition, while local officials have been clamoring for air support and reinforcements, "If there is no significant air support and ground reinforcement, Tarin Kot will collapse," warned Abdul Karim, head of the provincial capital.
Despite limited supplies, security forces have managed to halt the Taliban advanced within a couple kilometers of the main prison that houses hundreds of potential Taliban reinforcements. The prison would be a major prize to the militant group, as the Taliban have used prison breaks in previous battles to swell ranks, such as the case with the collapse of Kunduz last fall.
Unconfirmed reports on social media from journalists in Afghanistan claim the Taliban have already taken the prison and freed 400 prisoners.
Afghan journalist and contributor to The Independent Bilal Sarwary tweeted out late Wednesday night that airstrikes had been reported in the vicinity of Tarin Kot and that Afghan Special Forces had arrived to reinforce the besieged troops.
Handed over to the Afghan government in 2013, Tarin Kot military base was controlled and operated by Australian forces for a decade.
Tarin Kot also holds special symbolic importance to the Afghan government. In November of 2001, Tarin Kot witnessed one of the first Pashtun uprisings against the Taliban. Led by an unknown figure at that time, Hamid Karzai, with the assistance of U.S. Special Forces, the battle branded Karzai as a credible war leader.
The collapse of the provincial capital would deal a significant blow to the Afghan government as the two year anniversary of the power-sharing agreement that created the National Unity Government approaches on September 29.