How to Boost Innovation in Asia
Promoting science, technology, and innovation will be crucial to achieving sustainable development.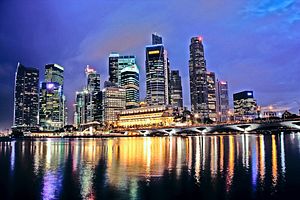 The pursuit of science, technology and innovation (STI), consistent with the guiding framework of the Addis Agenda Action Agenda and COP21, is critical for the implementation of the Sustainable Development Goals (SDGs). Asia and the Pacific have great potential to exploit STI to ensure no one is left behind, and economic and social productivity can be achieved through reaping the benefits of the technological revolution and adopting green and low carbon pathways. In keeping with the famous proverb "if you want to go fast go alone, if you want to go far go together," nations must work together to foster regional cooperation and collaboration to lay the foundations for a creative and innovation based Asia-Pacific economy. Such cooperation and collaboration must be aimed at strengthening the science and technology interface and leveraging it with finance and trade.
The STI landscape and approaches to collaboration in the Asia-Pacific region are undergoing dynamic changes which call for dynamic actions.
First, 40 percent of the Forbes Global 500 companies are now headquartered in Asia and the Pacific. Supported by innovations that have enhanced their productivity, these corporations are becoming global leaders in high-value-added industries such as automobiles and electronics. These companies will be the drivers of Asia's economic growth and trade in the coming years, especially if they successfully reposition themselves to fully exploit the growing middle income class and consumer markets in emerging Asian economies. The SDG agenda offers opportunities to the manufacturing and services sectors, and the social and eco ventures in them, to enhance their developmental impact by expanding the scope and scale of creativity and innovation. This, however, requires reshaping businesses to mainstream commercial discoveries that integrate advancements in computational capacity, power, speed, and data, which have been fueled by the emergence of artificial intelligence, innovative tools, and modalities in communications and business processes.
Second, technology and innovation are transforming what constitutes work, as well as how and where we work. There is also the risk that workers could be displaced by technology as smart machines as well as intelligence and innovative processes change and reinvent work. Computers have changed the way we plan, design and operate businesses across all sectors. These changes call for reskilling workers so they can adapt to automation and future tech-led business models. This will become even more relevant as machine learning begins to substitute human pattern recognition. For example, the IBM supercomputer Watson has illustrated its potential to predict health-related issues faster and more accurately than medically trained professionals based on its advanced analytic power which allows it to swiftly review stored reams of knowledge and data. Managing turbocharged data analytics, however, will require new skill sets. Algorithm solutions need to be contextualized by human beings that have appropriate management skills to interpret and situate analyses. They must also be "tech-savvy," which will allow them to work across industries and thereby break the notion of silo-based specialization. It is critical that we start reflecting on how these advancements could be adapted to intelligently shape the implementation of the SDGs.
Third, while there is growing recognition that sustainable development is the way forward, achieving it demands that we exploit the synergies and opportunities offered by technology and innovation to adapt, operationalize, and commercialize scientific discoveries and knowledge in specific industries. While science, technology, and innovation are inextricably linked, public policy has treated these three disciplines separately, with sometimes overlapping, but often very different stakeholders, ecosystems, and drivers. The silo approach has been perpetuated as the mandate for science predominantly rests with the ministries of science and technology or education, digital technology with ministries of information and communications technology, and innovation with ministries of commerce. A holistic policy approach to STI will provide an impetus not only in the laboratories to invest in products that serve the goals of sustainable development, but will also help develop new and different technologies and operating models to achieve a paradigm shift in basic research to deal with subject complexities and innovate for scale and quality to promote cost competitiveness.
Fourth, although STI has been at the core of development advances, scaling it up to support the SDGs requires long term investments in research, capacity building, sustainable innovation, and technology in developing countries. Blended public and private finance is the way to leverage STI. Public finance must be leveraged to support education, scientific advancements and research. It should also provide seed finance to help mitigate the risks related to starting new businesses. Private financing should be utilized to support firm related R&D and innovative transactions. In recent years, in addition to the growth of the financial inclusion industry, we have also witnessed the emergence of venture funds, impact exchanges and other impact investment products such as payment for service delivery and green bonds. The impact industry has been supported by big financial firms and new actors, such as philanthropic foundations, which have helped structure transformative financing solutions for market-based high social and environmental impact ventures. Multi-stakeholder partnerships are increasingly being considered as viable alternatives for financing specific SDGs and they can be boosted further by creating an enabling environment.
Some of the economies in Asia and the Pacific already have a dynamic, vibrant and pioneering STI ecosystem and they are deploying South-South cooperative strategies and solutions to promote STI.  Moreover, sub-regional bodies (including APEC, ASEAN, EEC, SAARC, and the Pacific Community Secretariat) are promoting STI policy frameworks and cooperation mechanisms, but greater collaboration among these entities should be a priority for achieving the SDGs. Recognizing this, the inaugural United Nations Economic and Social Commission for Asia and the Pacific's intergovernmental Committee on Information and Communications Technology, Science, Technology and Innovation, taking place in Bangkok this week, presents a unique opportunity to spur collective action on STI  in our region by providing a platform for countries to deliberate on how best to collaborate and take advantage of synergies to reinforce STI as a means of implementation to achieve the SDGs.
Dr. Shamshad Akhtar is an Under-Secretary-General of the United Nations and Executive Secretary of ESCAP. She has been the UN's Sherpa for the G20 and previously served as Governor of the Central Bank of Pakistan and Vice President of the MENA Region of the World Bank.