Nepal's Singing Storyteller
Nepalese journalist switches to singing for storytelling.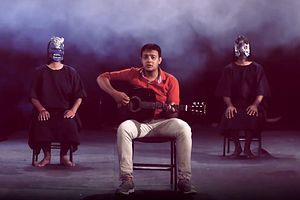 A Nepalese journalist, Ankit Babu Adhikari, believes music could be a better way to tell stories about his country's socio-political and philosophical struggles. As he acknowledges, however, the move was also at least partially due to his disillusionment with Nepal's media culture, wherein journalists are not rewarded sufficiently, neither financially nor in terms of readers' responses. 

In a video interview with The Diplomat, held in Kathmandu earlier this month and shot with just a smartphone, Adhikari also shares two original compositions. He released his first composition, "Ram Naam" (The Name of the Hindu God Ram), after a 7.8 magnitude earthquake killed about 9,000 people and injured nearly 22,000 in April 2015. In the song, he questions the existence of God. The second composition, "Nau Futey Bhoot" (A 9-Foot Ghost), followed a months-long blockade on Nepal's border in September 2015, allegedly imposed by India, after Kathmandu refused to include New Delhi's concerns in its then newly promulgated constitution. Adhikari, who quit journalism in 2014 after working with two national newspapers for five years, says he is developing a unique style of storytelling through his songs.