Smart Cities: A Long Road Ahead For India
India struggles to combat the stresses of urbanization with innovation and technology.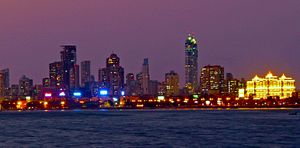 Just in terms of scale, there is no greater a managerial challenge in the world than the impending urbanization crisis that is about to hit India. A mammoth 600 million Indians are expected to live in cities by 2030, accounting for nearly 60 percent of the GDP. It is currently estimated that 30 people migrate every minute to major Indian cities from rural areas. The familiar adage that India lives in its villages is bound to become irrelevant in the next couple of decades. However, these cities, with their abysmal infrastructure, are in no position to handle the burgeoning stress.
The early signs of this crisis have started manifesting in Indian metropolises and the results are already catastrophic. Delhi is the most polluted it has ever been, Bengaluru's traffic and mobility woes are absurd, and Mumbai continues to grapple with urban poverty and overcrowding. The recent floods in Chennai also appropriately mirror how unprepared India's cities can be to sudden external shocks. Having made no progress in building resilience, the floods triggered a loss of over $3 billion to the Indian economy.
At the recently concluded Smart Cities World Congress in Barcelona, the debate around combating some of these challenges was centered on building competence in seven key areas of engagement: governance, society, safety, economy, technology, sustainability, and mobility. In this vista, citizen empowerment, big data, artificial intelligence, social innovation, cloud computing, public-private-people partnerships, etc. are seen as some of the new buzzwords that could potentially transform our cities and help realize the urban opportunity.
Over the years, a section of policymakers have come to believe that the right technology in the hands of a strong leader can be a potent combination. Technology is seen an enabler, an initiator of all things good. Adrian Leftwich terms this method of policymaking a "technicist fallacy," the firm cornucopian belief that developmental challenges may be subject to a clear-cut technical or managerial counter. However, while this method might work well within the European context, India has always been an unpleasant outlier. For starters, the mayor is simply not empowered constitutionally; coordination between different agencies falls flat; and financial autonomy and poor decentralization only makes matters worse.
The good news, though, is that cities have always been viewed as historically inefficient. And while technology may not be the panacea, one way to get cities in order and address this inefficiency is through the effective use of data. A strong data ecosystem provides city planners a genuine platform upon which they may be able to boldly question historically inaccurate assumptions that may have driven policymaking in the past. For example, the idea that automation takes jobs away is slowly evolving. Several studies now indicate that automation tends to open up new revenue streams that create newer jobs.
Large-scale investments in building secure systems for the collection and processing of data might not appear economical in the short term, particularly for tier two and tier three Indian cities and towns. But over time, this data transforms into intelligence through machine learning. In the long term, this can be a real game changer. Even though the vast majority of the world's urban population lives in tier two and tier three cities, the focus of most urban rejuvenation initiatives has tended to be concentrated on the global metropolises. As a result, the challenges of small and medium-sized cities and towns, which are comparatively less equipped in terms of resources and organizational capacity, remain largely ignored and unexplored.
Within the Indian context, the real challenge would be to deploy data and technology to effect behavioral patterns in a manner that facilitates inclusivity and equity while closing the opportunity gap. For starters, politicians and city planners will have to frame policy debates around what citizens and the community really care about. What is a city's north star? What is a city looking to achieve and what are its reasons for achieving them? We can only measure impact if we truly understand the underlying purpose.
It is critical to understand the baseline every city begins to operate from and where it is looking to go over a certain time period. Most studies on innovation will point to that fact that it seems to work best only when it's built on the culture and ethos of the area. In the quest to build intelligent cities, Anil Menon, global president of CISCO's Smart+Connected Communities believes it is perfectly normal to pause and ask ourselves, are we preserving the "soul" of a city while still managing to digitize every aspect of it?
Menon also raises two other important challenges. He believes emerging markets struggle because political leaders have little or no maturity. In a political framework filled with uncertainty, how can the private sector be convinced of continuity beyond a political term? This is particularly critical because in the traditional PPP model that the private sector enters into with the government, the impetus of bulk of the initial investment falls on the private sector. Corporations like CISCO spend millions to set up the primary infrastructure.
In India, the opposition is united in criticizing Prime Minister Narendra Modi's Smart Cities Mission as hollow and full of false promise. In the event that Modi is unable to secure a second term for himself, it is safe to assume that no party would be comfortable supporting the project wholeheartedly after consistently opposing it for many years. If this triggers a change in policy, it can potentially cause great distress for private corporations and their investments.
Menon also laments the lack of minimum acceptable global common standards for the digital world, particularly in emerging economies. Historically, our policies and regulations have been designed for the mechanical world but fall woefully short in the digital world.
The silver lining is the presence of a strong local innovation ecosystem. India has been endowed with an abundance of talented engineers. There is also growing private interest in artificial intelligence and the private sector has jumped at the opportunity to engage with the government on deployment of Internet of Things (IoT) sensors and technology. Government estimates peg the IoT market in India to be worth over  $15 billion in the next five years. However, innovation does not always have to be technology-centric. Innovation may also be defined as the manner in which we choose to organize ourselves in a market-based system. In this regard though, India is still far from competent.
Nandan Sharalaya is a German Chancellor Fellow and is sponsored by the Alexander von Humboldt Stiftung and the Institute for Industrial Organization at WHU, Otto Beisheim School of Management.