The Real Price of Cambodia's Defamation Charges
A closer look at what is a costly affair in the country.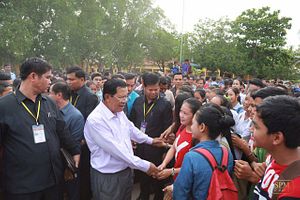 Sam Rainsy will have to dig deep into his pockets. The exiled leader of the opposition Cambodia National Rescue Party (CNRP) was first hit with the news on January 17 that Thy Sovantha, a former social media celebrity for the CNRP, who turned her back on the party last year, has filed a defamation suit against him after he accused her of taking $1 million from Prime Minister Hun Sen to attack his party. She is demanding $250,000 in compensation.
Then, the day after, Hun Sen announced that he would also be suing Sam Rainsy for defamation for the same accusations, this time demanding $1 million in compensation. Exiled in France, the opposition leader stuck to his guns, writing on Facebook: "I confirm saying that Hun Sen proposed $1m for Thy Sovantha, based on a Hun Sen Facebook message which he has not denied."
Sam Rainsy has been no stranger to defamation charges, with a handful filed against him in recent years, and his decision to go into self-exile in late 2015 motivated to avoid one. But the controversy might allow us a moment to consider what defamation means in this country, particularly for the average Cambodian.
Let's begin with the costs. Article 305 of the Criminal Code states that defamation is punishable by a fine of between 100,000 riels (roughly $25) and 10,000,000 riels ($2,500).
In 2015, the gross national income (GNI) per capita of Cambodia was $1,070 per year. This, of course, does not account for the wild income disparities amongst the people. So take as an example a garment worker, whose minimum wage rose this year to $153 per month, a comparatively decent sum in Cambodia.
So, if a garment worker was sued for defamation and received the maximum fine possible, it would take about one and a half years to pay back. But that's one and half years without being able to pay for food, housing, or anything else. Now, let's assume that the garment worker actually wants to live, so spends, say, a conservative 70 percent of their income on the daily necessities. With what's left, it would take them just under five years to pay the fine.
And – and this is a big and – that is only if the court allows them to pay the fine in installments, not at a lump sum. If they cannot, it's prison for them; despite Hun Sen's promise in February 2006 to decriminalize defamation, Article 525 of the Cambodian Criminal Procedure Code 2007 rules that unpaid fines can result in imprisonment.
The point I am trying to get at is that defamation is costly business in Cambodia. Why? It is obvious: to detract people from being critical of people in power and, by effect, to prevent free speech.
But here's the real rub. Article 305 of the Criminal Code states that "defamation shall mean any allegation or charge made in bad faith which tends to injure the honor or reputation of a person or an institution."
The Criminal Code came into effect in 2010, designed to update the one introduced by UNTAC at the beginning of the 1990s. The UNTAC codes ruled that defamation would have to be proven to have done actual harm to an individual's honor or reputation. But the new law means that a charge need only tend to harm reputation and honor. This shifts the burden away from the victim of showing how defamation impacted their life, to the accused's intentions.
So, if you, dear reader, were to write on social media or in print that I was a very substandard journalist and went on to degrade my work, I would have only to show that what you said could harm my reputation or honor, and not that I actually did lose work or money because of your comments. Now, the fact is that I am rather thick-skinned and broad-backed – and often do receive far from complimentary feedback, such as one Facebook user who recently chose to inform me that I write "idiot articles" – but not everyone is happy to listen to criticism, even when it is constructive or true.
Especially not governments. Which is why another change took place from the UNTAC Code to the 2010 Criminal Code. The former specified that defamation could only be committed against an individual, not an institution. But the 2010 Criminal Code includes institutions as possible victims. This change allows political parties, businesses, and NGOs to file for defamation. This is rather shocking: political debate cannot happen without the honor of a political party being brought up for questioning. It is no wonder defamation is wielded so often by the government.
But here's where it gets interesting – or worse, should I say. Despite the maximum fine under the Criminal Code being $2,500, most cases of defamation also come with compensation for damages. As the Cambodia Center for Human Rights points out: "Damages or compensation are subjectively decided by the judge, supposedly based upon the amount of damage, in monetary terms, which the victim has suffered to their honor or dignity." So not only would the average Cambodian have to pay thousands in fines, they would also be expected to pay compensation for damages.
But how expensive can these compensation packages possibly be? Well, in July 2016, Sam Rainsy was ordered to pay National Assembly President Heng Samrin roughly $37,500 in compensation after being found guilty of defaming him when, on Facebook, he wrote that Heng Samrin's regime in the 1980s had sentenced King Norodom Sihanouk to death. In November, Sam Rainsy was ordered to pay $5,000 to Som Soeun, the website administrator for the ruling Cambodian People's Party (CPP), after accusing him of advising the party to purchase "likes" on the prime minister's Facebook page. This is how Thy Sovantha can demand $250,000, and Hun Sen for $1 million, in damages from Sam Rainsy.
Hun Sen, who told reporters in 2011 that he survives solely on his salary of $1,150 per month, would have to remain as prime minister for another 72 years if he was to make the $1 million he wants from Sam Rainsy – that is, unless he and his family have other means of income, perhaps like the combined estimated wealth of between $500 million and $1 billion that Global Witness suggested of last year.
So, you see, there's more than one way of shutting people up.