Are Chinese Forces Conducting Patrols in Afghanistan?
China has denied reports that its military is conducting patrols across the border in Afghanistan.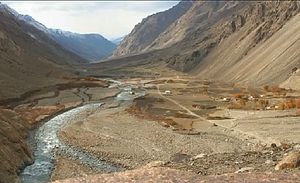 Is the Chinese People's Liberation Army conducting patrols in Afghanistan?
Earlier this month, Franz J. Marty, over at the Central Asia-Caucasus Institute, wrote that "overwhelming evidence," including "photographs, an eyewitness account and several confirming statements of diplomats and observers, among them a Chinese official familiar with the matter," suggested this was the case.
Marty's report wasn't the first to suggest PLA operations within Afghanistan. An Indian news outlet had posted pictures on its website alleging that Chinese forces were patrolling in Afghanistan's Little Pamir region, near the Chinese border.
To date, China has strongly denied reports that its military is conducting patrols within Afghanistan, but has conceded that "joint counter-terrorism operations" with Afghan authorities are underway. Ren Guoqiang, a spokesman for the People's Liberation Army, said that "the law enforcement authorities of the two sides have conducted joint law enforcement operations in border areas to fight against terrorism." "The report that the Chinese military patrolled in Afghanistan is false," he also added.
In November 2016, the Chinese Ministry of Defense similarly rejected Indian reports that the Chinese military had carried out operations inside Afghanistan. "Reports in foreign media of Chinese military vehicles patrolling inside Afghanistan do not accord with the facts," Chinese Defense Ministry spokesman Yang Yujun noted at a regular press conference. "In recent years, law enforcement bodies from China and Afghanistan, in accordance with a bilateral cooperation decision on strengthening border law enforcement, arranged to have joint law enforcement operations in border regions," Yang had noted then. Afghan officials also denied those reports.
China has made its interest in counterterrorism in Afghanistan clear for years. More recently, Beijing has been explicit about its concern that Afghan soil could be used by separatist Uighur militant groups like the East Turkestan Islamic Movement. In a rare trip to Afghanistan in 2014, Chinese Foreign Minister Wang Yi sought assurances that Afghanistan would not allow its territory to be used as a safe-haven for Xinjiang separatist groups. Zarar Ahmed Moqbel Osmani, a former Afghan foreign minister, assured Wang that Afghanistan "would never allow the ETIM to take advantage of the Afghan territory to engage in activities endangering China, and will continuously deepen security cooperation with the Chinese side." In 2015, Afghanistan handed over Uighur militants captured it had captured to China, reportedly seeking Beijing's backing on peace talks with the Taliban through Pakistan.
In the meantime, it remains inconclusive, despite Chinese denials, just how far along bilateral patrols between Kabul and Beijing have developed. The Financial Times notes that Ren also denied that there were ongoing "non-military patrols on the Afghan side of the border," leaving open the question of what exactly "joint counter-terrorism operations" entail otherwise.