Will Pakistan Benefit From the US 'Mother of All Bombs' Strike in Afghanistan?
Could the strike on eastern Afghanistan help Pakistan with its cross-border militancy problem?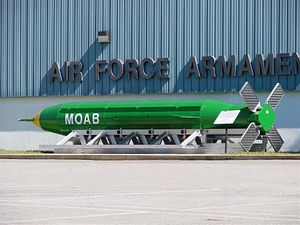 Currently into the 16th year of its never-ending war in Afghanistan, last week the U.S. military, for the first time ever, dropped the most powerful non-nuclear bomb in its arsenal — the "mother of all bombs," as it is nicknamed — in eastern Afghanistan. As per the U.S. Department of Defense, the strike targeted a "tunnel complex." Reportedly the tunnel complex, located along the Pakistan-Afghanistan border in Nangarhar province, was being used by the Afghan affiliate of the Islamic State (ISIS) group to launch attacks in other parts of the province. According to General John W. Nicholson, commander of U.S. forces in Afghanistan, the strike was designed to minimize the risk to Afghan and U.S. forces conducting clearance operations in the area "while maximizing the destruction" of ISIS fighters and facilities. The tunnel complex is also said to have been used by al-Qaeda, the Haqqani Network, and the Taliban in the past.
The huge 22,000-pound Massive Ordnance Air Blast (MOAB) bomb, developed in the early 2000s, had been available to the United States throughout the Iraq war but it was never used. In this context the exceptional MOAB strike in Afghanistan raised many eyebrows, especially so far as its timing, desired purpose, and impact are concerned.
In this context, one significant dimension of the United States' unprecedented MOAB strike is its impact on Pakistan's anti-terrorism efforts. Islamabad has been deeply concerned about terrorists fleeing from Pakistan (after the country's successful anti-terrorism efforts) to sanctuaries and hideouts across the porous Afghan border. Pakistan believes that terrorists continue to operate freely from across the border. Given Pakistan's long-standing concerns about attacks that were traced back to terrorist elements based on Afghan soil, here it is important to ask if the latest U.S. strike, which potentially destroyed terrorists' hideouts along AfPak border, would go on to ultimately benefit Pakistan by consolidating the results of its anti-terrorism efforts.
It is pertinent to note that in wake of a string of terrorist attacks in Pakistan in February this year, Pakistan's army chief expressed his concerns to General Nicholson over continued acts of terrorism in Pakistan being committed with impunity from Afghanistan. It was reported that the U.S. commander then shared his plans to undertake special coordination at the appropriate level between Resolute Support Mission (RSM), Afghan security forces, and Pakistan. Similarly, the Pakistani government had also conveyed fears to Kabul as well as Washington about ISIS and Tehrik-i-Taliban Pakistan (TTP) terrorists who had developed their training camps in Nangarhar province. From there, they would launch terrorist attacks in Pakistan and then go back to their hideouts in Afghanistan.
Acclaimed Pakistani journalist Hamid Mir, who has extensive experience reporting from the Pakistan-Afghanistan border region, maintains that when the Pakistan military started targeting terrorists' hideouts in Afghanistan through artillery fire (especially in wake of the deadly attack on a Sufi shrine in Pakistan that was claimed by ISIS operating from Afghanistan), the operation had its limitations. As per Mir, for at least three years now the Pakistani government has been requesting that Kabul and Washington launch joint ground operations in the problematic areas of Nangarhar province. He says if the MOAB strike is analyzed from this perspective, then Pakistan is indirectly a beneficiary. Most of the militants present in ISIS training camps in Nangarhar province were also involved in terrorist activities in Pakistan.
Although it is far from clear that the U.S. military strike was motivated primarily by Pakistan's repeated requests, it can be fairly argued that Pakistan must have felt relieved by the new military action on the other side of the border.
On the other hand, Pakistan's former ambassador to Afghanistan, Rustam Shah Mohmand, while commenting on the impact of the latest U.S. strike, (in a telephone conversation) cautioned against hyperventilation over the "mother of all bombs" strike and questioned its efficacy. In the bigger scheme of things, Mohmand completely ruled out any significant positive outcome from the strike. He maintains that the most important objective of the Trump administration must have been to showcase its symbolic belligerence and hostility against ISIS. In Mohmand's analysis, the "mother of all bombs" hyperbole was largely meant for media consumption as a way of sending out a message to rival countries that Trump's America is for real. Also Mohmand does not believe that many ISIS terrorists would have been killed in the strike; instead he feared that in all likelihood there would be civilian casualties.
Similarly, retired Lieutenant General of Pakistan Army Ghulam Mustafa, who is closely observing the developing situation in wake of the U.S. strike, said by telephone that the new U.S. administration wanted to send out a symbolic message that it is serious about fighting the ISIS threat anywhere. He said that Trump administration, through the Nangarhar strike, conveyed a message especially to Iran and Russia that United States remains the dominant player in the Afghanistan peace process. In this vein, he said that even if "mother of all bombs" strike ends up benefiting Pakistan at all, the impact would not be very significant. The realities on the ground remain the same.
Although the implications of the U.S. strike in Afghanistan remain contested and unclear in Pakistan, nonetheless it is important that Pakistan's anti-terrorism efforts be well reciprocated by stern action on the other side of the Afghan border. For this purpose, Kabul and Washington should recognize Islamabad's sacrifices so far and most importantly help it consolidate the results of its successful anti-terrorism efforts.
Mahboob Mohsin is a political commentator. He is working as a Research Associate with Information Technology University, Lahore. Follow him on Twitter: @MohsinMahboob.
Waqas Halim heads the Center for Technology in Education at Information Technology University and is a Fulbright scholar from Columbia University.