Kauai's Quietly Expanding Military Role
A testing site for weapons systems, missiles, and rockets in the middle of the Pacific.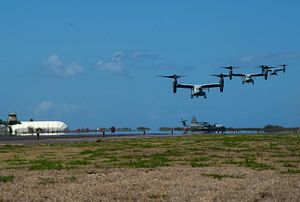 LIHUE, Hawaii — When the calm of a Sunday December morning was shattered by the roar of Japanese zero fighters descending to attack Pearl Harbor, it wasn't the idyllic scenery that drew them to Hawaii, it was America's military might.
In the 76 years since Pearl Harbor catapulted Hawaii onto center stage of America's Pacific war efforts, the islands' importance to the Pentagon have only grown. Today, Hawaii hosts 142 sites (military bases and facilities) and, from its headquarters at Camp H.M. Smith on Oahu, U.S. Pacific Command (USPACOM) oversees America's military operations across half the planet. It's difficult to overstate Hawaii's importance to the military and increasingly, that includes the island of Kauai.
Since 1940, Kauai has been used as a military landing field, quietly cultivated as a site capable of hosting a broad range of military operations from aviation and underwater testing to amphibious and ground assault training, testing cluster bombs and drones, missile launches, telemetry, radar, and low orbit rocket launches.
The Garden Island, as Kauai is known, is home to the Pacific Missile Range Facility (PMRF), which describes itself as "the world's largest instrumented multi-environment range, capable of providing complex and realistic training scenarios." A spokesman for the naval base said, "PMRF is unique in that it can simultaneously support surface, subsurface, air, and space training scenarios."
Every two years, PMRF plays a role in Rim of the Pacific (RIMPAC), the world's largest maritime exercise. In 2016, U.S. Marines and three allied nations conducted a simulated helicopter raid in support of "amphibious, offensive, defensive, and stability operations" at PMRF and the base supported SINKEX, an exercise in which decommissioned naval ships are used for practicing live-fire sinking.
Doing Big Things for Important People
As a missile testing and training facility, PMRF is said to be admired in Israeli defense circles. It's also valued by NASA, the University of Hawaii, and defense contractors like Lockheed Martin, Raytheon, General Atomics, and Northrop Grumman. PMRF was critical in testing the Aegis Ashore ballistic missile defense system as well as Terminal High Altitude Area Defense (THAAD), the mobile missile defense system deployed on Guam and now in South Korea. PMRF also served as the launching ground for the Advanced Hypersonic Weapon, a system designed to strike a 6,000 km range in 35 minutes with an accuracy of ten meters.
PMRF's commanding officer declined to comment for this story but in 2013, PMRF's former commanding officer told Kauai's local newspaper, "We're doing big things for very important people all across the globe." Among those big things is providing a home to Sandia National Laboratories' Kauai Test Facility (KTF) which was established in 1963 in support of the Atomic Energy Commission's Operation Dominic series of 36 high-altitude nuclear weapons tests in the Pacific.
Since its founding, the 130-acre KTF has supported at least 443 launches and provided resources for assembling, testing, and launching test vehicles on Kauai and elsewhere. Sandia describes KTF as a national asset that offers a laundry list of services from weapons research and development, operational and missile defense testing, radar tracking, telemetry reception, and training and launch projects. Both Sandia and KTF declined to be interviewed for this story.
Combat Ready?
In 2016, PMRF made headlines when USPACOM's Admiral Harry Harris said the military should consider transforming PMRF from a testing and training facility into a combat ready missile defense base. At that time, PMRF dismissed the idea of serving as an operational facility. When asked again in April, a PMRF spokesman responded: "[PMRF] has not changed and… continues to test technology and train the fleet. The Aegis Ashore Missile Defense Test Complex is a test asset and not an operational facility."
But testifying before Congress on April 26, Harris said North Korea posed an immediate threat to Hawaii, again calling for a defensive radar system and missile interceptors in Hawaii. Kauai's Congressional Representative Tulsi Gabbard (HI-02) has also been a vocal advocate for introducing a combat ready missile defense system in Hawaii but her fellow congresswoman, Rep. Colleen Hanabusa (HI-01), questioned the need, calling North Korean threats to Hawaii overstated.
'Bird' Watching on Kauai
The U.S. Marine Corps is also eyeing Kauai for testing and training CH-53 and H-1 helicopters and the MV-22 Osprey hybrid tilt-rotor aircraft. If approved, additional training would involve low altitude flights in the rugged mountains of west Kauai and the neighboring privately owned island of Niihau.
In an October 6, 2016 email, a Marine spokesman wrote, "No final decision has been made by the U.S. Marine Corps with respect to any new or additional aviation training to be conducted at Kauai or Niihau. The Marine Corps is completing an Environmental Assessment… before making a decision to carry out new or additional aviation training… "
Despite this, at least four Osprey were filmed flying and landing at or near PMRF ten days earlier. Then, in January 2017, a Kauai resident recounted the surprise appearance of Osprey flying over a public beach some ten miles east of PMRF. He described the incident and uploaded a short clip here.
Previously a Marine spokesman said Kauai was selected, in part, based on past training conducted at these locations and the proximity to PMRF. However, a PMRF spokesman stated, "PMRF is not involved in testing of the MV-22 Osprey. In reference to MV-22 Osprey activities on Kauai, we recommend that you contact the U.S. Marine Corps…"
In September 2016, when the Marines published notification of the proposed increase in training, there was almost no awareness by local government officials. Six months later, in April, when asked about Osprey training, Hawaii State Rep. Daynette Morikawa, who represents west Kauai and Niihau, said she hadn't heard any news and declined to comment.
Deadly crashes in Hawaii involving both the Osprey and CH-53E heavy-lift helicopters in 2015 and 2016, along with an Osprey crash in Okinawa last December, have raised concern among some, but many Kauai residents remain unaware of the aircraft's presence. The Marine Corps plans to deploy an additional Osprey squadron (12 aircraft) to Hawaii in 2018.
Dolphins, Whales, and Long Range Strike Weapons
The waters northwest of Kauai include the Barking Sands Underwater Range Extension (BSURE), where the U.S. Air Force has announced a five-year plan (September 2017-August 2022) to test the Long Range Strike Weapons Systems Evaluation Program. That plan calls for the use of multiple types of inert and live bombs and missiles delivered by bombers and fighter aircraft and requests authorization to take marine mammals incidental to conducting munitions testing.
In an email, a spokeswoman for the 53rd Wing Public Affairs Office cited the Marine Mammal Protection Act (MMPA)'s definition of take marine mammals as "to harass, hunt, capture, or kill, or attempt to harass, hunt, capture, or kill any marine mammal." Incidental is defined as "unintentional, but not unexpected."
The Air Force's 86 Fighter Weapons Squadron's request for a letter of authorization states that the proposed Long Range Strike Weapons and other munitions operations off Kauai could expose marine mammals to sound levels associated with Level A and B harassment. Level A means "any act that injures or has the significant potential to injure a marine mammal." Level B is described as "any act[s] that disturb… by causing disruption of natural behavioral patterns including, but not limited to, migration, surfacing, nursing, breeding, feeding, [etc.]…"
A total of nine species of whales, including humpback, melon-headed, and minke, and seven species of dolphins, including bottlenose, spinner, and striped, could be taken.
According to a NOAA spokeswoman, under the MMPA, NOAA Fisheries can "authorize impacts to marine mammals… provided [they] can ensure that the activity will have negligible impact on the affected species…" The Air Force has said, "No mortality is expected."
Multiple requests for comment from the University of Hawaii Marine Mammal Research Program went unanswered.
A Shield or a Target?
Despite the breadth and frequency of military activities, most tourists on Kauai, and even many local residents, are scarcely aware of the military presence. Driving west toward PMRF along Kauai's two-lane highway, a hand-painted wooden sign announces Hanapepe as "Kauai's biggest little town."
The sleepy community, better known as the fictitious setting for the Disney animated film Lilo & Stitch, is also home to a Hawaii Army National Guard (HIANG) Armory and the 299th Cavalry Regiment Combat Team Troop C. It's here, along the shoreline and by the mouth of the Hanapepe River that the 29th Infantry Brigade carries out monthly reconnaissance and infantry tactics training, preparing for the kind of battles they've faced in past deployments to Iraq and Afghanistan.
Here on Kauai, PMRF employs around 1,000 people (mostly Department of Defense and contract civilians) along with 90 active duty sailors. As one of Kauai's top employers, the military is warmly regarded and touted as a way for the island's youth to access high-tech and government employment. It's one reason why most residents (but not all) see nothing untoward when Kauai's civilian airport is used for periodic touch and go exercises by the Hawaii Air National Guard's F-22 Raptors or HIANG training in public, with camouflage-painted faces and firearms at the ready.
Kauai remains synonymous with beautiful beaches, dense tropical forests, and a laid-back island culture. But far from a sleepy Polynesian backwater removed from a troubled world, Kauai is an understated defense juggernaut with a growing role that leaves some wondering if all this weaponry serves more as a shield or a target.
Jon Letman is a Hawaii-based independent journalist covering politics, people, and the environment in the Asia-Pacific region. He has written for Al Jazeera, Foreign Policy in Focus, Inter Press Service and others.