After TPP: The Future of US-Japan Trade Relations
The United States and Japan want fundamentally different things from their trade relationship.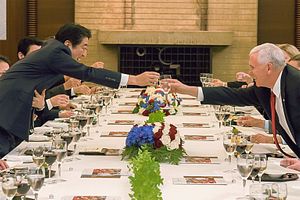 When Japanese Prime Minister Shinzo Abe met with U.S. President Donald Trump in February, they agreed to convene a bilateral economic dialogue – led by U.S. Vice President Michael Pence and Japanese Deputy Prime Minister and Finance Minister Taro Aso – to "[explore] cooperation across sectors that promote mutual economic benefits to the United States and Japan." This framework would enable the two governments to draft a new economic agenda following U.S. withdrawal from the Trans-Pacific Partnership (TPP), the 12-country trade agreement that had dominated the bilateral agenda since Japan entered TPP negotiations in March 2013.
Despite Tokyo's fears that the dialogue would lead to a new round of trade disputes, the first meeting, which was held on April 18, was cordial. Both Aso and Pence suggested that the two governments seek opportunities for "win-win" economic cooperation, and they established working-level groups in three areas – trade and investment rules, cooperation on economic and structural policies, and sectoral cooperation – ahead of a second round of talks later in 2017.
The friendly discussions, however, obscured the extent to which Japan and the United States are pursuing conflicting visions of the U.S.-Japan economic relationship. Ahead of the dialogue, it was apparent that the Trump administration wants to pursue a bilateral free trade agreement (FTA) with Japan. Commerce Secretary Wilbur Ross, for example, suggested that a U.S.-Japan FTA was "a very high priority," perhaps second only to renegotiating the North American Free Trade Agreement (NAFTA). Ahead of the first Aso-Pence dialogue on April 18, as well as side meetings between Ross and Japanese cabinet officials, U.S. administration officials reportedly sought to use the dialogue to lay the groundwork for subsequent talks on an FTA.
However, the joint statement following the talks did not specifically refer to the possibility of an FTA, mentioning only "a bilateral framework for setting high trade and investment standards." The reason for this omission is plain. Revisiting an FTA, particularly after the United States abandoned TPP, a multilateral agreement wrapped around a U.S.-Japan bilateral agreement, is a backward step for an Abe government determined to play a leadership role in Asia and the global economy – especially if the Trump administration were to demand concessions that went beyond the already historic concessions Japan offered to the United States in TPP negotiations.