Modi's Passage to Israel
Indian Prime Minister Narendra Modi's upcoming visit to Israel will be historic.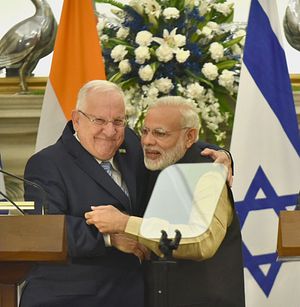 Prime Minister Narendra Modi will be in Israel this week on a landmark visit, making public an embrace that started years ago. Israel has long complained that it never gets its due from India despite booming security ties; the Indian political establishment did not want to take the apparently risky step of bringing Indo-Israeli ties out of the closet. Modi too took his own time in making this visit happen.
He first assiduously wooed the Arab Gulf states and Iran, recognizing how vital these countries are for India's diplomatic footprint in the Middle East. This has ensured that he can't be blamed for ignoring the wider region in favor of Israel. His ministers and even the president of India, meanwhile, engaged Tel Aviv on a whole range of issues.
Ever since Prime Minister Narasimha Rao established diplomatic ties with Israel in 1992, bilateral relations have grown significantly and Israel has been one of the three pillars of India's Middle East policy along with Saudi Arabia and Iran. And yet Indian policymakers remained shy of acknowledging this important partnership.
It was Israel that kept the momentum going in the relationship by supplying India weaponry at critical moments, even when not being repaid by Indian policymakers. Its perseverance seems to be paying off now as Modi wants to end this trend and the symbolism of his visit, which comes after 25 years establishing diplomatic ties, is important to underscore the departure from past practice. Modi will not visit Ramallah, the seat of the Palestinian Authority, underlining the recent Indian practice of de-hyphenating Israel and Palestine in its foreign policy matrix.
It's not surprising, therefore, that Israeli Prime Minister Benjamin Netanyahu has hailed his Indian counterpart's visit to Israel as a "very significant step" in strengthening bilateral relations that are on a "constant upswing." He pointed out that Modi's visit to Israel will be a "historic visit to Israel. In the 70 years of the country's existence, no Indian prime minister has ever visited and this is further expression of the state of Israel's military, economic, and diplomatic strength." The Israeli prime minister is also expected to visit India later this year as part of the 25th anniversary celebrations of India-Israel diplomatic ties.
Defense ties have been booming and India is one of the most important markets. India is today Israel's biggest arms market, with $2.6 billion arms deals signed in 2017 alone. In what has been described as the largest defense contract in the history of Israeli defense industry, Israel Aerospace Industries (IAI) was awarded contracts in India totaling almost $2.0 billion in April this year to provide an advanced MRSAM air and missile defense system to the Indian Army as well as additional LRSAM air and missile defense systems for India's first indigenously built aircraft carrier. Israeli defense firms are also responding enthusiastically to Modi's "Make in India" policy by stepping up collaborations with local companies and gearing up to supply India with drones, radar, communication systems, and cybersecurity support.
Counterterror cooperation and intelligence cooperation have always been high on the India-Israel bilateral agenda. The nature of the terror challenge that the two nations face can be underscored by the recent comments of Hizbul Mujahideen (HuM) supreme commander Syed Salahuddin, who suggested that his being declared a "Specially Designated Global Terrorist" by the U.S. State Department was a joint move by the United States, Israel, and India to express their animosity toward Pakistan.
Going beyond these traditional areas of cooperation, Modi would want to tap into Israeli technological and innovation prowess. He will also use his trip to encourage Israeli businesses, from the diamond industry to high-end technology, to set up shop in India. The two nations are looking to expand their strategic partnership in areas such as water, agriculture, and space technology during Modi's visit. The Israeli cabinet has already approved a series of measures and an $80 million budget for joint research and development, mainly in water and agricultural technology programs. The expansion of 26 Israeli set up agriculture expertise centers in 15 Indian states is on the cards to help Indian agriculture improve its productivity.
Societal ties between India and Israel remain strong. In fact it's the government-to-government ties that are now catching up with the genuine warmth that the two people feel towards each other. In recognition of this, Modi, along with his Israeli counterpart will address a gathering of about 6,000 Indian-origin Israelis at the Tel Aviv Fairgrounds Convention Center during his visit and will also meet Moshe Holtzberg, one of the youngest survivors of the 26/11 attacks in Mumbai.
As Modi marches ahead by defining the new terms of engagement with Israel, his real achievement so far has been in making India's other partners in the Middle East realize that India-Israel ties are an important part of the nation's overarching Middle East policy and that no single state can have veto over this aspect.
As America retreats from its expansive post-World War II role in the Middle East, emerging powers like China and India will have to shoulder greater burden of managing regional order in the Middle East. India's relations with Israel will be one very important part of that new role that India envisages for itself in the region and beyond.