Japan, Philippines Boost Defense Ties in Duterte-Abe Summit
The meeting in Manila saw further progress on security relations between the two sides.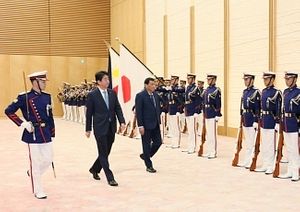 Over the weekend, Japanese Prime Minister Shinzo Abe was one of many foreign leaders who descended on the Philippines for this year's round of Association of Southeast Asian Nations (ASEAN) meetings, which Manila has been chairing. Abe's visit, which came just weeks after Duterte's own trip to Tokyo, saw a summit meeting with the Philippine president, which consolidated some gains in the defense relationship.
As I have noted before in these pages, though relations between Japan and the Philippines date back decades, ties in the defense domain had strengthened significantly under former Philippine President Benigno Aquino III and Japanese Prime Minister Shinzo Abe, in part due to common concerns about China's growing assertiveness in the East China Sea and the South China Sea. Despite lingering concerns about Philippine President Rodrigo Duterte's drift toward China, the commitments between Tokyo and Manila have continued and advances are still being made (See: "Japan-Philippines Defense Relations Under Duterte: Full Steam Ahead?").
During Duterte's visit to Japan last month, the two countries agreed to a number of things on the defense side as part of their broader roadmap for bilateral cooperation over the next five years. The list included increased cooperation on counterterrorism, combating transnational crimes, and maritime security in the Sulu-Sulawesi Seas, which has been an area of growing interest for regional powers (See: "A US-China Role in the New Sulu Sea Trilateral Patrols?"). Other developments offered promise for bilateral defense ties as well, including Tokyo's donation of five TC-90 planes to Manila, which was conveyed at a meeting between the two defense ministers (See: "Why Japan's New Military Aircraft Gift to the Philippines Matters").
At the Duterte-Abe meeting in Tokyo, Japan had also indicated that apart from its capacity-building in terms of equipment, which continues to be on display with commissioning and handover ceremonies for patrol vessels under the Maritime Safety Capability Improvement Project, there would also be development of other forms of assistance like coastal surveillance capability following the establishment of a support team by the Japan Coast Guard in October and scheduled training sessions and drills.
The summit meeting between Duterte and Abe in Manila saw a consolidation of some of these gains on the defense side begin to take shape. Apart from discussing bilateral and regional issues of interest, the two sides exchanged notes on Japanese assistance to the Philippines. This included a grant to fund the procurement of equipment and materials for counterterrorism and maritime security, including reconstruction as well as coast watch radars, as well as an amended letter of agreement on the TC-90s following the change of terms both sides had already committed to.
And in an affirmation of the fact that Japan also views its role in the Philippines as part of its broader ties with Southeast Asia and the broader Indo-Pacific region, Abe also made reference to Tokyo's aid during the East Asia Summit (EAS) (See: "Japan Reveals First ASEAN Defense Initiative with Vientiane Vision"). That framing was yet another reminder that Manila will factor into Tokyo's regional approach, be it in terms of its own wider ASEAN defense initiatives or in concert with other powers like the United States, with Trump's new vision of a free and open Indo-Pacific (See: "Trump's Indo-Pacific Strategy Challenge").